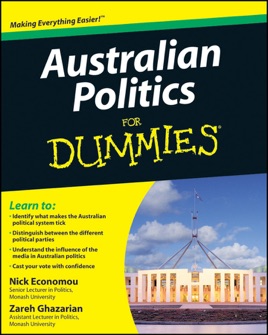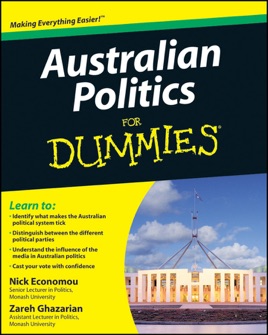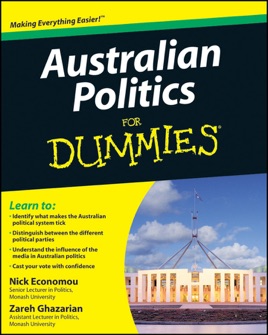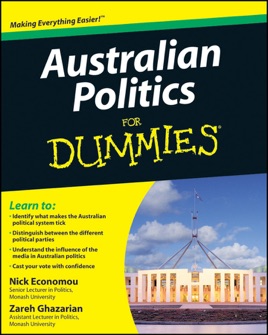 Australian Politics For Dummies
Publisher Description
Created especially for the Australian customer!

Understand the Australian political system and make your vote count

Get to grips with the good, the bad and the ugly of Australian politics! Whether you're a seasoned political punter or a voting novice, this is your essential guide to understanding politics in Australia. Master the ins and outs of elections, parties and policies, and learn to discuss the big issues in no time. You have to vote — now learn whyand how.

Decipher political terminology — clear explanations of the houses of parliament, voting systems and more

Learn how Australia's political system evolved — how Westminster and Washington were combined to produce 'Washminster'

Appreciate parliamentary roles — what the Whips do and just what the Usher of the Black Rod is

Find out who holds the purse strings — how federal and state governments work out who pays for what

Understand how political parties work — the differences between Labor and Liberal, and what coalition politics is

Discover what's meant by the balance of power — how minor parties and independents contribute to politics

Determine how your vote is counted — the difference between preferential voting and proportional representation

Work out the media's role — how the media reports, interprets and sways political outcomes

Open the book and find:

Key points about past and current political hot topics

Explanations of the Australian Constitution, including the crisis of 1975

Plans of the houses of parliament so you know who sits where

Analysis of how the major Australian political parties came about

A concise description of the electoral pendulum

Graphic descriptions of the different ballot papers

A comprehensive glossary of political terms and jargon

Learn to:

Identify what makes the Australianpolitical system tick

Distinguish between the differentpolitical parties

Understand the influence of the media in Australian politics

Cast your vote with confidence
Educated my gf
Two of my previous teachers helped educate my girlfriend and bring her into the fray. Sorry Nick I still preferred Liberal but very well done. Recommend for anyone just wanting to become that second step involved.
Fantastic read!
My family is heavily involved in politics, so much that they never have time to explain the system to me. This book has helped me a lot.
Simple and Effective
Great book, it's easy to read and covers off on the in and outs of Australian politics in a simple way that will not put you to sleep.