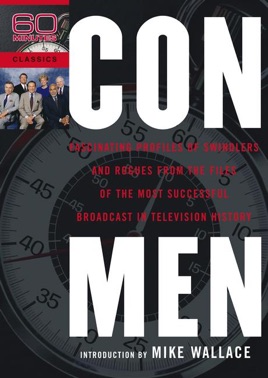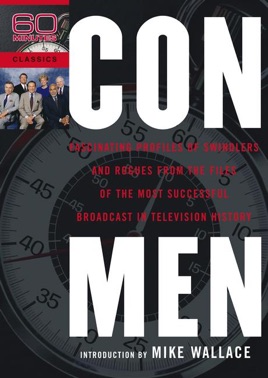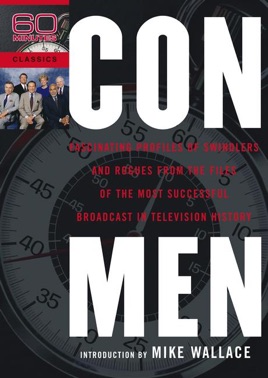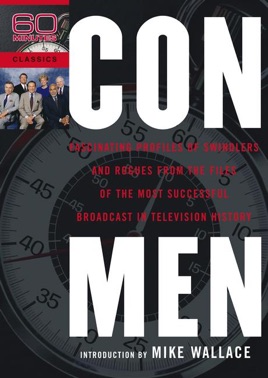 Con Men
Fascinating Profiles of Swindlers and Rogues from the Files of the Most Successful Broadcast in Television History
Publisher Description
60 Minutes brings its award-winning journalistic skills and unmistakable broadcast style to the page, delving into its archives to present stories on one of the program's most popular subjects: the con man.

Con Men exposes a truly eclectic group of swindlers and rogues: the extraordinary characters of ABSCAM, pyramid-scheme millionaires and stock-market crooks, snake-oil salesmen and art forgers. Many of them are diabolical -- all of them are intriguing. Here 60 Minutes captures each one in vivid detail: self-proclaimed con man Kirby Hensley, the illiterate purveyor of church ministries to millions via mail-order; Clifford Irving, who fabricated Howard Hughes's "autobiography" for hundreds of thousands of dollars; the Reverend R. J. Rudd, whose bogus spa treatments promised a cure for cancer; Sante and Kenneth Kimes, the notorious mother and son grifters convicted of murdering wealthy Manhattanite Irene Silverman; and John Ackah Blay-Miezah, who, in one of the simplest yet most extravagant cons of all, claimed to hold the key to a fortune of billions and convinced others to put up millions so that the fund could be "unlocked." These and many other colorful stories translate perfectly to the page, brought to life by the trademark bite and humor of 60 Minutes.

Featuring an introduction by Mike Wallace, with insights into the evolution of the show's coverage of cons, and intriguing updates on the outcome of each of the stories, Con Men delivers the intelligent reporting and insightful wit that has made 60 Minutes the most successful broadcast in television history.

60 Minutes is the only television broadcast to be the most-watched show in America in three separate decades. Since its debut in 1968, the critically celebrated program has won seventy-three Emmy Awards -- the most for any news program -- as well as nine Peabody Awards for exceptional television broadcasting. According to Nielsen, an average of nearly fifteen million viewers tuned in to the show Sunday evenings during the 2001-2002 season, not to mention the millions who watch it overseas and listen on simulcast radio.
PUBLISHERS WEEKLY
This expanded version of a 1999 television special by 60 Minutes on "The Best of Cons" revisits the popular show's inventive and delightful investigative pieces featuring "not just reports of political skullduggery but tales of criminal greed, scams, and schemes." An introduction by Mike Wallace accurately notes that these tales feature "some of the most devious, entertaining, piratical, and resourceful individuals ever to grace a television screen," including famous con artists such as Clifford Irving, author and forger of Howard Hughes's autobiography; painter Elmyr de Hory, whose fake Picassos and Matisses were sold for millions of dollars to unsuspecting collectors and museums; and Mel Weinberg, an ex-convict who helped run the FBI's massive Abscam sting operation in the 1970s. But the lesser-known people are the book's most memorable characters, such as Danny Faries, who stole almost $2 million in merchandise over the phone using stolen credit card numbers, despite the fact that he was an inmate in a Miami jail; and Kirby Hensley, founder of the Universal Life Church, where anyone can be named a minister for only $20. Hensley gleefully proclaims himself to be a con man in the service of putting traditional organized religions out of business. Spryly written, with updates on each con artist at the end of their respective chapters, this volume is a fun and fascinating look at an ongoing issue raised by Andy Rooney in a closing essay: "why there are so many semihonest people in business, and why the rest of us are such suckers."