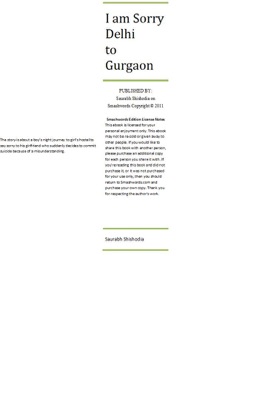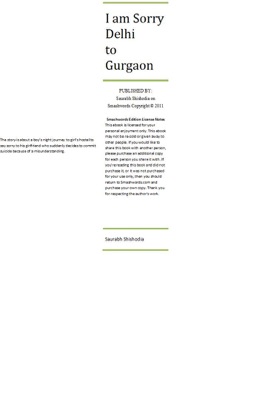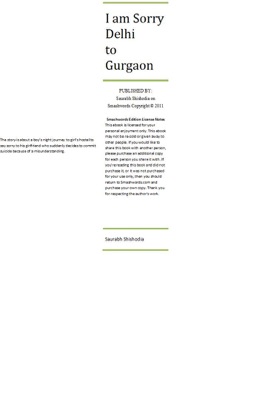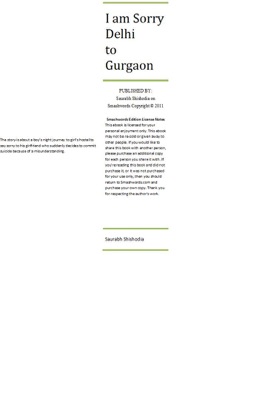 I am Sorry (Delhi to Gurgaon)
Publisher Description
The story is based in Delhi Saint Michael College about the life of A Punjabi girl Aradhna and Delhi boy Salil Singhal who are madly in love with each other. Salil is sober, introvert and has a coward image & is very unpopular among boys of the college. Aradhna was always fine with his image because she was cool and knew his nature but sometime it irritates her. Salil always check if she gets irritated and surprises by her cool attitude, often calls her the best girlfriend in this world. She never even bothered about him being with so called selfish girls, but he never takes her lenient undue advantage and always remains in his limits.
But one night, Salil staying alone in his south Delhi apartment was talking on phone with Aradhna which they used to do every night, suddenly Salil crazy cousin sister who study in Delhi comes and ask Salil to stay during that night. Salil allows her but his sister don't tell him that her boyfriend nick name Sallu is also there and she helps him to sneak inside room through window where they start kissing each other.
Salil left the phone in that room with Aradhna holding phone and by the time he realises, comes back to the room and sees her cousin and his boyfriend naked in the bed. He hits that guy and throws him out of his house. Aradhna while on the phone misinterprets Sallu as salil because she also calls Salil as Sallu. She was so shocked and upset; she locks her door from inside and leaves her roommate jiya outside. When Jiya tries to open the door, she gets no response from her. Jiya calls Salil and tells him about Jiya behaviour. He gets tense and thinks that may be because she has misinterpreted that sound as his own. He tells Jiya that he is coming to hostel and she keeps trying to open the door without making much noise because he doesn't want anyone to know about this and hurt Aradhna's Reputation.
His parents have taken away the vehicle and he has only one option of going to his friend's place to get his car. His friend Ashwin is a Tamil boy who is stupid but honest has no aim in life and always remain high. Ashwin and Salil were in same group before Aradhna came into his life which led to Ashwin's breakdown. Salil went to his home to pick up his servant's bike as his dad has taken away his car because of his irresponsible attitude, Ashwin half stoned forces Salil to take Ashwin with him As he thinks he will take care of Ashwin and his bike to The 30 K.M. journey and the main story starts with them riding on 125 cc bike to girl's hostel to save Aradhna.
More Books by Saurabh Shishodia
See All