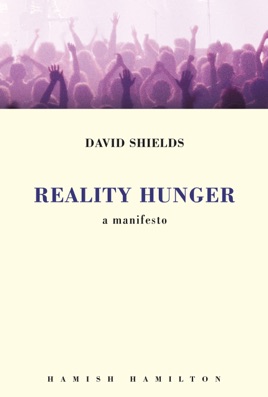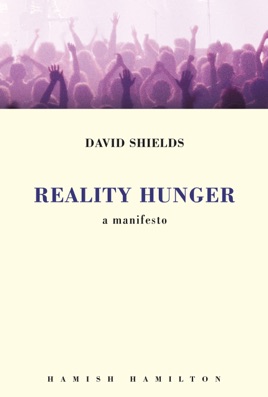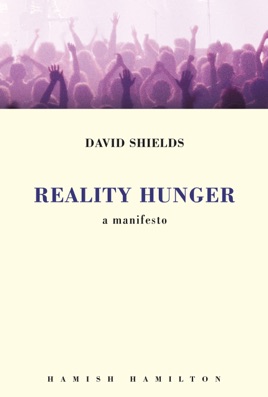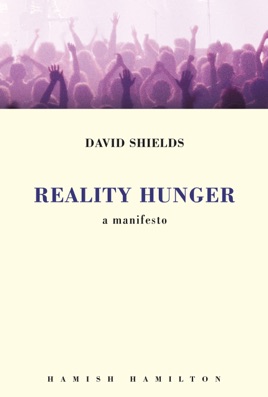 Reality Hunger
A Manifesto
Publisher Description
Reality Hunger is a manifesto for a burgeoning group of interrelated but unconnected artists who, living in an unbearably artificial world, are breaking ever larger chunks of 'reality' into their work. The questions Shields explores - the bending of form and genre, the lure and blur of the real - play out constantly around us, and Reality Hunger is a radical reframing of how we might think about this 'truthiness': about literary licence, quotation, and appropriation in television, film, performance art, rap, and graffiti, in lyric essays, prose poems, and collage novels.

Drawing on myriad sources, Shields takes an audacious stance on issues that are being fought over now and will be fought over far into the future. Converts will see Reality Hunger as a call to arms; detractors will view it as an occasion to defend the status quo. It is certain to be one of the most controversial and talked about books of the season.
PUBLISHERS WEEKLY
Shields's latest reinvents the "how to" while explaining how the hazy line between truth and lie undermines all forms of modern communication, an understanding that requires accepting the inherent imperfections and idiosyncrasies of a single writer's memory, intent, desire, and point of view. Shields's manifesto reads as a mixture between a diary and lecture-hall notes, each well-thought-out entry (titles include "mimesis," "books for people who find television too slow," "blur," "hip-hop," "in praise of brevity") made up of a series of numbered paragraphs. Incorporated into his consideration of general themes in art are specific pieces of writing and music as well as current events, like the election of Barrack Obama. Shields references a multitude of well-known writers whom he considers definitive (or re-definitive) in literature; one writer that Shields returns to repeatedly is James Frey. Shields considers the Frey debacle, including his guest appearances on Oprah, by way of the imperfect human faculty for memory and communication, finding in Frey's story damning evidence that human beings are doomed to experience life alone. Touching, honest, and dizzyingly introspective, Shields (The Thing About Life is that One Day You'll be Dead) grapples lithely with truth, life, and literature by embracing his unique perspective, and invites each reader to do the same.
More Books by David Shields
See All