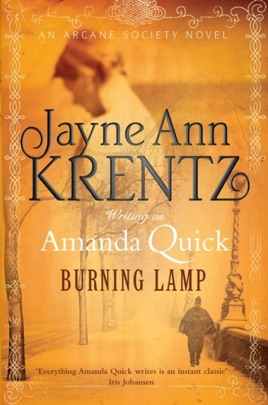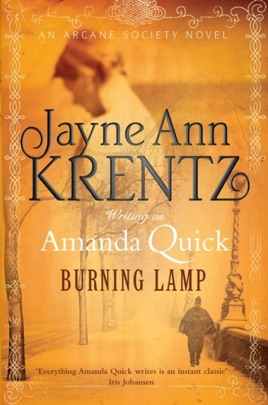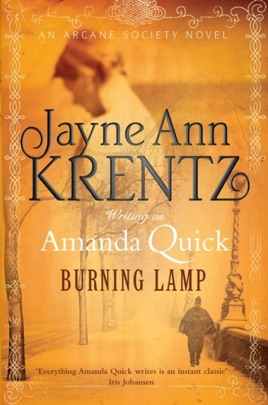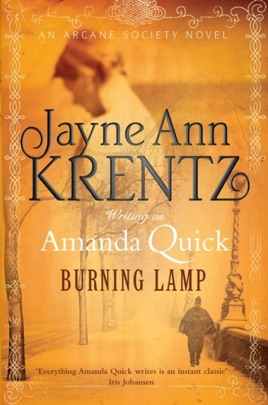 Burning Lamp
Number 8 in series
Publisher Description
More than three centuries ago, Nicholas Winters irrevocably altered his genetic makeup in an obsession-fuelled competition with alchemist and Arcane Society founder Sylvester Jones. Driven to control their psychic abilities, each man's decision has reverberated throughout the family line, rewarding some with powers beyond their wildest dreams, and cursing others to a life filled with madness and hallucinations. At the heart of this curse is the Burning Lamp.

In BURNING LAMP by Jayne Ann Krentz writing as Amanda Quick, FIRED UP by Jayne Ann Krentz and MIDNIGHT CRYSTAL by Jayne Ann Krentz writing as Jayne Castle, you will meet the three men - past, present and future - of the Burning Lamp, descendants of Nicholas Winters. There is only one hope for them: each must find the artefact and a woman who can work the dreamlight energy that the device produces in order to reverse the dangerous psychical changes brought on by the curse - or risk turning into a monster...
PUBLISHERS WEEKLY
Bestseller Jayne Ann Krentz, writing under her historical fantasy nom de plume, turns in a top-notch performance in the second Dreamlight novel. Crime lord Griffin Winters rules a vast underworld empire in Victorian London, but he fears the descent of a familial curse of madness brought on by an ancestor's alchemical experiments. Only a powerful magical artifact, controlled by a woman of rare power, can save him. Magically gifted orphan Adelaide Pyne, recently embarked on a crusade to save women from prostitution, could be that woman, and a psychic connection soon draws Adelaide and Griffin into a dangerous partnership. Fast-paced and cleverly constructed, the tale perfectly balances lively adventure, passionate romance, and the paranormal against an elaborate and refreshingly original background. Arcane Society fans will be thrilled, and new readers will find this stand-alone story very accessible.