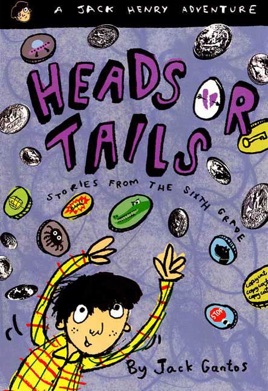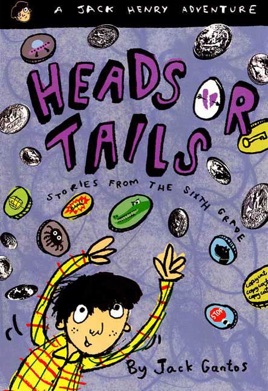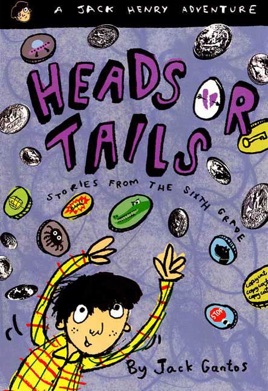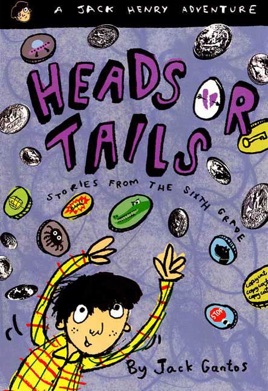 Heads or Tails
Stories from the Sixth Grade
Descrição da editora
From the Newbery Medal–winning author of Dead End in Norvelt, eight more hysterical semi-autobiographical Jack Henry stories about a sixth grader's trials and tribulations

Jack's life is a crazy roller-coaster ride. At his fifth school in six years, he has a crackpot teacher who won't give him a break about his lousy handwriting and a secret crush who wants to be a policewoman. At home, he has a pesky little brother with a knack for getting hurt whenever Jack's supposed to be looking after him, a terror for an older sister, all sorts of weird neighbors, and, last but not least, ferocious alligators in the canal behind his house.

Writing in his diary about his good days and bad days is one way Jack survives his up-and-down year. But he's also a kid who knows that life can go any which way at any given moment.

He might as well flip a coin: heads he wins, tails he loses. What will turn up next?

A Common Core title.
PUBLISHERS WEEKLY
The author of the offbeat Rotten Ralph picture books makes an auspicious foray into new ground with this semi-autobiographical, wholly engaging novel. His narrator, Jack, travels through the often poignant moments that highlight his sixth grade year, at the same time describing his unpredictable family life: ``Since I was born, we had already lived in nine different houses. I hated that word `renter.' It made me feel that I didn't really belong anywhere, like we had to pay people to put up with us,'' he says. Stuck between an older sister he emulates and a pesky if appealing younger brother, Jack always strives to do the right thing--often to land in trouble. His perspective is quirky but reliable, and often surprising. The first chapter, for example, describes Jack's three-year battle to fill his diary; when he can think of nothing to write, he begins to pack the diary with ``stuff''--bugs, baseball cards, stamps and so on--but he concludes, ``I was covering over the empty white space of the pages in the same way I covered my eyes with my hands when I watched a monster movie.'' A bittersweet resonance filters the humor in these stories, and lingers most welcomely. Ages 10-up.