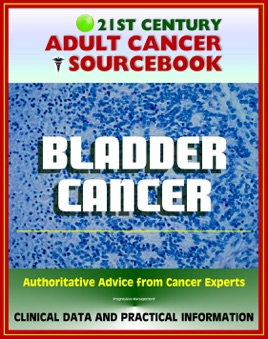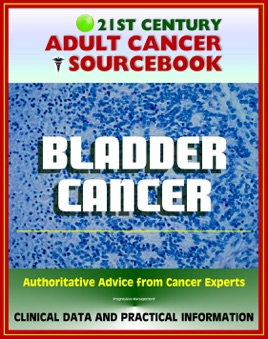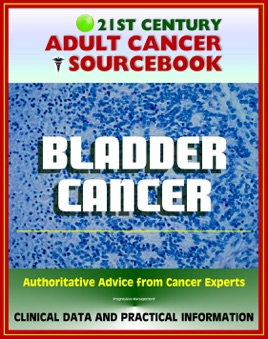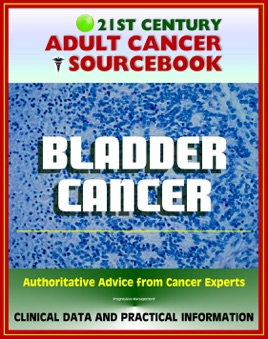 21st Century Adult Cancer Sourcebook
Bladder Cancer, Urinary Bladder Neoplasms - Clinical Data for Patients, Families, and Physicians
Publisher Description
Authoritative information and practical advice from the nation's cancer experts about bladder cancer includes official medical data on signs, symptoms, treatment options, surgery, radiation, drugs, chemotherapy, staging, biology, prognosis, and survival, with a complete glossary of technical medical terms and current references. Starting with the basics, and advancing to detailed patient-oriented and physician-quality information, this comprehensive in-depth compilation gives empowered patients, families, caregivers, nurses, and physicians the knowledge they need to understand the diagnosis and treatment of bladder cancer.

Comprehensive data on clinical trials related to urinary bladder neoplasms is included - with information on intervention, sponsor, gender, age group, trial phase, number of enrolled patients, funding source, study type, study design, NCT identification number and other IDs, first received date, start date, completion date, primary completion date, last updated date, last verified date, associated acronym, and outcome measures.

Each year in the United States, more than 52,000 men and 18,000 women are diagnosed with bladder cancer. Most are over 70 years old. More than 9 of 10 Americans with bladder cancer have a type called transitional cell cancer (TCC). TCC begins in the cells on the surface of the inner lining of the bladder. These cells are called transitional cells. They are able to stretch when the bladder is full and shrink when it's emptied.

Approximately 70% to 80% of patients with newly diagnosed bladder cancer will present with superficial bladder tumors (i.e., stage Ta, Tis, or T1). Those who do present with superficial, noninvasive bladder cancer can often be cured, and those with deeply invasive disease can sometimes be cured by surgery, radiation therapy, or a combination of modalities that include chemotherapy. Studies have demonstrated that some patients with distant metastases have achieved long-term complete response following treatment with combination chemotherapy regimens. There are clinical trials suitable for patients with all stages of bladder cancer; whenever possible, patients should be included in clinical trials designed to improve on standard therapy.

Extensive supplements, with chapters gathered from our Cancer Toolkit series and other reports, cover a broad range of cancer topics useful to cancer patients. This edition includes our exclusive Guide to Leading Medical Websites with updated links to 81 of the best sites for medical information, which let you quickly check for updates from the government and the best commercial portals, news sites, reference/textbook/non-commercial portals, and health organizations. Supplemental coverage includes:

Levels of Evidence for Cancer Treatment Studies

Glossary of Clinical Trial Terms

Clinical Trials Background Information and In-Depth Program

Clinical Trials at NIH

How To Find A Cancer Treatment Trial: A Ten-Step Guide

Taking Part in Cancer Treatment Research Studies

Access to Investigational Drugs

Clinical Trials Conducted by the National Cancer Institute's Center for Cancer Research at the National Institutes of Health Clinical Center

Taking Time: Support for People with Cancer

Facing Forward - Life After Cancer Treatment

Chemotherapy and You

This is a privately authored news service and educational publication of Progressive Management. For over a quarter of a century, our news, educational, technical, scientific, and medical publications have made unique and valuable references accessible to all people. Our e-books put knowledge at your fingertips, and an expert in your pocket!
More Books by David N. Spires
See All