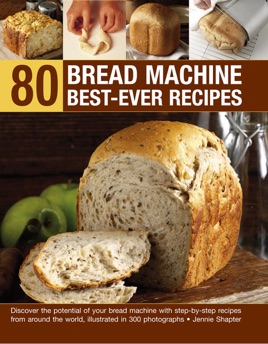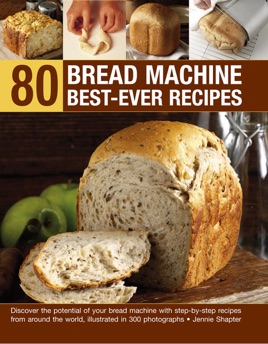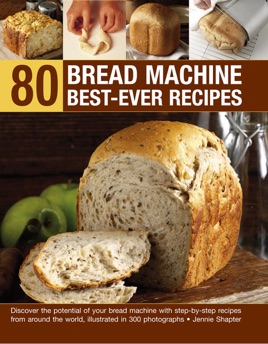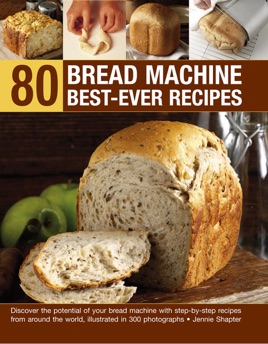 80 Bread Machine Best-Ever Recipes
Discover the Potential of Your Bread Machine with Step-by-Step Recipes From Around the World, Illustrated in 300 Photographs
Publisher Description
The bread machine has made baking home-made loaves so much easier and more accessible – all you have to do is pour in flour, yeast and water, add a little sugar and a pinch of salt and let the machine do the rest. With over 22,000 printed copies sold, this book presents 80 fabulous recipes to encourage you to use your machine to its full potential, from basic breads to some highly elaborate recipes. All the recipes are fully convertible for different machines and have been updated for use in today's modern bread machines. Breads from all around the globe are included, from world-famous classics such as Garlic and Coriander Naan, Ciabatta, San Francisco-style Sourdough and Yorkshire Teacakes to more unusual recipes such as Chilli Bread, Spanish Picos, Haman Pockets and Finnish Festive Wreath.
The book includes a helpful introduction giving you all the information you need to make a success of baking bread, from using your bread machine and hand-shaping loaves to glazing and topping your breads. It is also packed full of helpful cook's tips and recipe variations to give you extra ideas for all occasions, as well as over 300 stunning photographs that illustrate step-by-step sequences and show you what the finished bread should look like. Whether you are experimenting with your first bread machine recipe or looking to expand your baking repertoire, this is an essential guide for every baker. 
Jennie Shapter is a freelance food writer and home economist who specializes in creating and testing recipes. In the early part of her career, Jennie spent a number of years working as Chief Home Economist for several major food manufacturers, where she developed her considerable baking skills. She has written over twenty cookery books.
Excellent
The only book needed for the home bread maker. Excellent, easy to read recipes, well illustrated, and a wonderful selection of breads......and if's free!
More Books by Jennie Shapter
See All