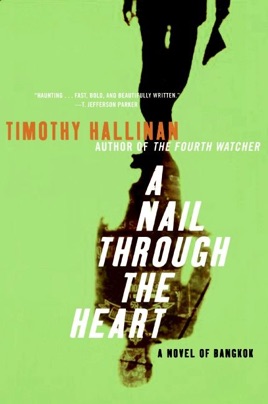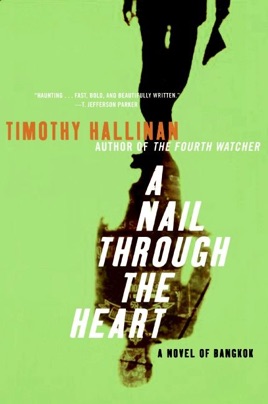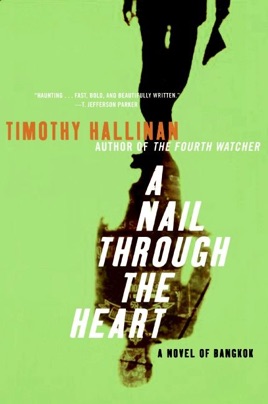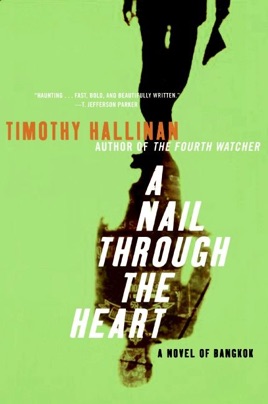 A Nail Through the Heart
A Novel of Bangkok
Publisher Description
Travel writer Poke Rafferty was good at looking for trouble—so good that he made a little money writing a few offbeat travel guides for the young and terminally bored. But that was before Bangkok stole his heart. Now the expat American is happily playing family with Rose, the former go-go dancer he wants to marry, and with Miaow, the wary street child he wants to adopt. Yet just when everything is beginning to work out, trouble comes looking for Poke in the guise of good intentions. First he takes in Miaow's friend, a troubled and terrifying street urchin named Superman. Then he agrees to find a distraught Aussie woman's missing uncle—and accept an old woman's generous payment to find a blackmailing theif. Soon, these three seemingly disparate events begin to overlap, pulling Poke deeper into dark, unfamiliar terrain. Gradually he realizes that he's been gliding across the surface of a culture he really doesn't understand—and that what he doesn't know is about to hurt him and everyone he loves.

Beautifully crafted, relentlessly paced, A Nail Through the Heart is an exciting and enticing read that will leave readers hungry for more from the gifted Timothy Hallinan.
PUBLISHERS WEEKLY
Brutal torture and equally brutal empathy define this excellent, if sometimes familiar, thriller from Hallinan (The Bone Polisher). Poke Rafferty, a travel writer turned detective, intends to settle down in Bangkok with his ex-prostitute girlfriend, Rose, and a young urchin, Miaow, when Miaow brings her troubled friend Superman into the household. While dealing with this intrusion, Rafferty takes on dual sleuthing assignments to help pay for adopting Miaow. The first case involves finding Australian Claus Ulrich, a hardcore bondage aficionado. When Rafferty meets the powerful and rich Madame Wing while investigating Ulrich s disappearance, she offers him $30,000 to find an envelope and the Cambodian man who took it. The only catch? If Rafferty opens the envelope, he ll learn information about Madame Wing that will force her to kill him. Rafferty stumbles through the clues like the foreigner he is, always on the outside looking in. Despite an overly leisurely ending, the rich depictions of Bangkok s seedy side recall John Burdett s visceral mysteries.
More Books by Timothy Hallinan
See All