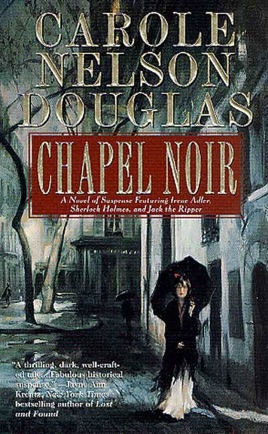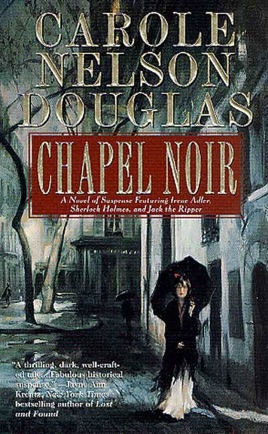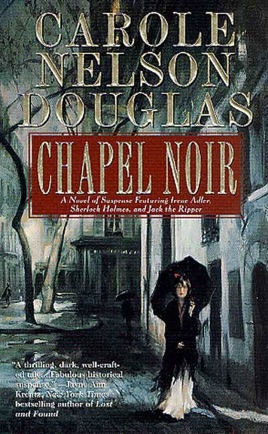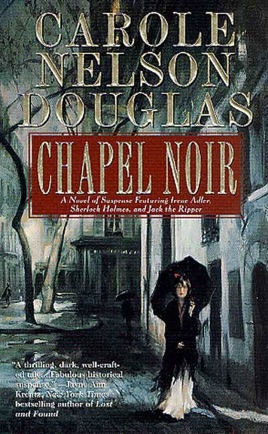 Chapel Noir
A Novel of Suspense featuring Sherlock Holmes, Irene Adler, and Jack the Ripper
Publisher Description
Before Caleb Carr and Laurie R. King, Carole Nelson Douglas gave readers a compelling look into Victoriana with a bold new detective character: Irene Adler, the only woman to ever outwit Sherlock Holmes.

An operatic diva and the intellectual equal of most of the men she encounters, Irene is as much at home with disguises and a revolver as with high society and haute couture.

Chapel Noir is the fifth book in Carole Nelson Douglas's critically acclaimed Irene Adler series, which reinvents "the woman" that Sir Arthur Conan Doyle introduced in "A Scandal in Bohemia" as the heroine of her own extravagant adventures.

This time readers are thrust into one of the darkest periods of criminal fact and fiction when two courtesans are found brutally slaughtered in the lavish boudoir of a Paris house. No woman should ever see such horrors, authorities declare, but a powerful sponsor has insisted that Irene investigate the case, along with her faithful companion, sheltered parson's daughter Penelope Huxleigh.

But does anyone really seek the truth, or do they wish only to bury it with the dead women--for there is a worse horror that will draw Irene and her archrival, Sherlock Holmes, into a duel of wits with a fiendish opponent. These Paris killings mimic a series of gruesome murders that terrorized London only months before, in a dangerous and disreputable part of town known as Whitechapel . . .

At the Publisher's request, this title is being sold without Digital Rights Management Software (DRM) applied.
PUBLISHERS WEEKLY
The prolific Douglas's fifth Irene Adler novel (after 1994's Irene's Last Waltz) clocks in at nearly 500 pages, and by the end, some readers may feel as if they've climbed every one of them. An appendix with enough gall to put the hubris back in chutzpah includes a readers' group guide with suggested discussion topics ("If Nell is a 'Watsonette' and Irene Adler takes the leading Sherlockian role, how does this pairing illuminate the mores of the times?"), an interview with Douglas and a selected bibliography. This is remarkable for a book that hasn't an original idea in its head. Irene Adler, "the" woman of Conan Doyle's "A Scandal in Bohemia," as Douglas incessantly reminds us, is the only person to have outsmarted Sherlock Holmes, as Douglas even more incessantly reminds us. Irene lives with her husband (who's conveniently away) and her companion, Nell Huxleigh, who records her adventures and is the novel's most plausibly human character. Irene has had a varied and romantic life. She's been an opera singer and a part-time operative for the Pinkertons. In this capacity, her reputation "almost" rivals that of Sherlock Holmes, a thorn in her tiresome ego. Here the authorities ask her to investigate the murder of a pair of prostitutes in a Parisian brothel. The condition of the bodies leads her at once to conclude that Jack the Ripper has come to Paris. It's all very familiar, predictable and overwritten.
More Books by Carole Nelson Douglas
See All