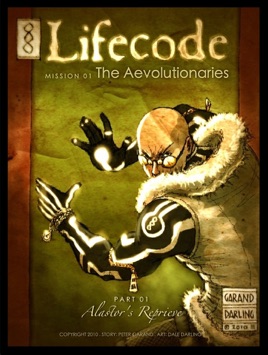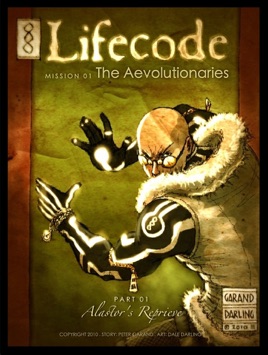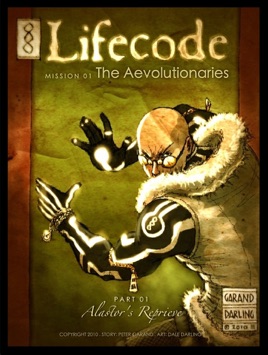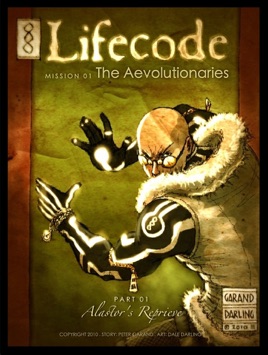 Lifecode: Mission 01 - The Aevolutionaries, Part 1
Alastor's Reprieve
Publisher Description
Alastor's Reprieve is the initial installment of The Aevolutionaries, the first mission in the Lifecode series. Lifecode is the first graphic novel produced entirely on the iPad. 


Story by Peter Garand, Art by Dale Darling 




Alastor Blayne lives peacefully on Enfer C, serving a life sentence on the hellish prison planet for crimes he can't recall. His life changes forever when, while reading quietly at a café overlooking smouldering glass volcanoes, he is attacked by a trio of ruthless assassins. 


He is rapidly drawn into the world of the Lifecode, the force which governs the delicate balance of power amongst the Human Races of the 28th century. Inexplicably selected to command a bioengineering survey crew known as the Aevolutionaries, he is drawn into a war that will decide the fate of all humankind, while also unlocking secrets about his mysterious past.
A must read for graphic novel lovers!!
I stumbled across this while waiting in the airport to pass time. Having been a graphic novel collector for years I was amazed with the story and artwork. Well done!! Looking forward to the next installment.
love it
This is one stylish graphic novel! Sci-fi is not typically my preferred genre, but the cover drew me in, the story intrigued me and the art work is just mad cool. I look forward to part two.
Awesome art work
Well done!