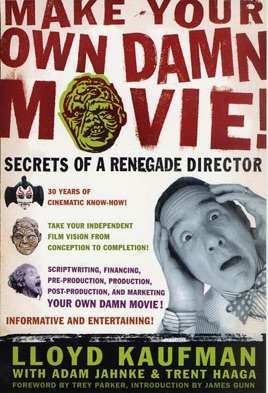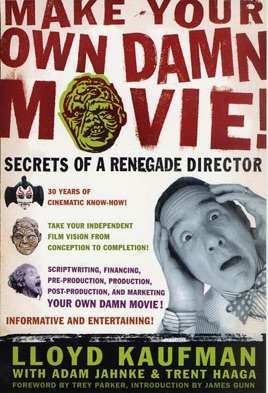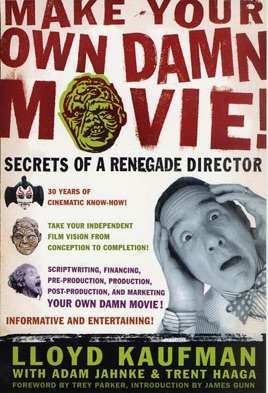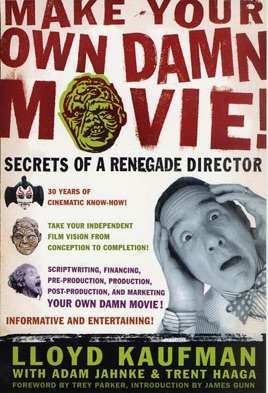 Make Your Own Damn Movie!
Secrets of a Renegade Director
Publisher Description
Lloyd Kaufman, the writer/producer/director of such cult-classic films as The Toxic Avenger, Class of Nuke 'Em High, and Tromeo and Juliet, offers a guide to movie-making unlike any other available anywhere. In 25 years, Kaufman, along with partner Michael Herz, has built Troma Studios up from a company struggling to find its voice in a field crowded with competitors to its current--and legendary--status as a lone survivor, a bastion of true cinematic independence, and the world's greatest collection of camp on film.

As entertaining and funny as it is informative and insightful, Make Your Own Damn Movie! places Kaufman's radically low-budget, independent-studio style of filmaking directly in the reader's hands. Thus we learn how to: develop and write a knock-out screenplay; raise funding; find locations and cast actors; hire a crew; obtain equipment, permits, and music rights (all for little or no money); make incredible special effects for $0.79 each; charm, schmooze, and network while on the film-festival circuit; and, finally, make a bad actor act so bad it's actually good.
From scriptwriting and directing to financing and marketing, this book is brimming with utterly off-the-wall, decidedly maverick, yet consistently proven advice on how to fully develop one's idea for an independent film.
PUBLISHERS WEEKLY
The experience of low-budget filmmaking is so bad it's good. This is the central bit of wisdom writer/producer/director Kaufman (his credits include The Toxic Avenger; Class of Nuke 'Em High; Tromeo and Juliet) gives in this riotous book. Equal parts how-to, memoir and shrewd marketing stunt, it tells young filmmakers to lower their expectations. Taking a reverse-inspirational tack, Kaufman admits indie films probably won't make you rich, famous, happy or very many friends. For emphasis, he begins with an image of him shoveling rat poop from the basement of Troma Studios and closes with a suicide dream sequence. It is to the tremendous credit of Kaufman's profane, self-deprecating, caustic but charismatic sense of humor that the book's opening, closing and everything else in between manages to make the low-budget filmmaking process seem like the most glorious and noble of life pursuits. Seven different contributors regularly interrupt Kaufman with commentary on aspects of the filmmaking process in general and Kaufman in particular. (He's both inspirational and profoundly cheap.) At one point, an argument that's been brewing between coauthor Haaga and Kaufman about whether film or digital video is better dissolves into a five-page, farcical cursing contest. Like the work he pursues, Kaufman's book is at times so bad it's good. 40 b&w photos.
More Books by Lloyd Kaufman, Adam Jahnke & Trent Haaga
See All