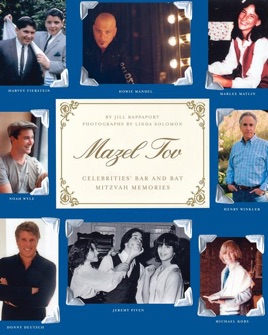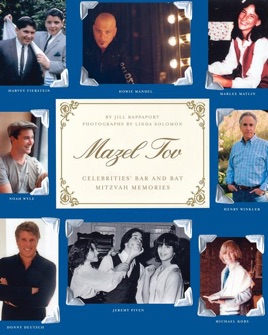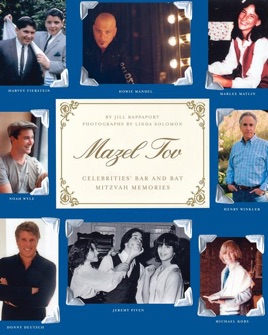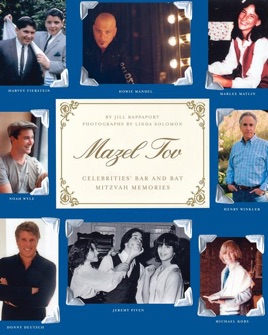 Mazel Tov
Celebrities' Bar and Bat Mitzvah Memories
Publisher Description
In Mazel Tov, celebrity journalist Jill Rappaport and photographer Linda Solomon offer an intimate glimpse of the bar or bat mitzvahs of some of the most talented people in entertainment, politics and business. This remarkable book brings together stories and never-before-seen family photos of a variety of public figures, as they look back on their thirteen-year-old selves and reminisce about the celebration that marked their transition into adulthood.

The wonderfully candid interviews in Mazel Tov document deeply poignant, and often hilariously awkward, moments in these very public lives. Interviewees include Jeremy Piven, Senator Joseph Lieberman, Marlee Matlin, Richard Dreyfuss, Ronald Perelman, Howie Mandel, Gene Shalit, Harvey Fierstein, Judy Gold, Larry King, Donny Deutsch, Michael Kors, Charles Grodin, Josh and Andy Bernstein, and many others. Their experiences run the gamut: Kirk Douglas decided to be bar mitzvahed twice, while others, like Noah Wyle, always wanted one but never had the chance. There are stories of bar mitzvahs, bat mitzvahs, confirmations, and the only documented "bark" mitzvah, held in honor of two beloved pets. Though the stories vary greatly in their detail, they all express a common appreciation for values and traditions that have been passed down through the generations.

Illustrated with photos pulled from family albums as well as contemporary portraits, Mazel Tov is an appealing tribute to the enduring bonds of faith and family.
PUBLISHERS WEEKLY
What do Larry King, Ed Koch and Richard Dreyfuss have in common? All three, we learn in this light book of profiles, had a bar mitzvah at age 13. On the one hand, this is a fairly superficial celebrity multi-biography that almost cynically panders to celebrities, with a couple of politicians thrown in. There are very few women represented, and almost no reflection on the spiritual commitments made in the bar mitzvah. But on the other hand, there's something to be said for the specific and focused nature of this book, with all these people chronicling a single rite of passage that has remained steadfast through centuries of change. (And of course, who can resist then-and-now celebrity photographs?) Two of the most touching stories are of deaf actress Marlee Matlin's bat mitzvah, since she had to learn Hebrew phonetically, and of her friend and mentor Henry Winkler, who struggled through his bar mitzvah because of dyslexia. Actor Kirk Douglas had two bar mitzvahs one at the traditional age, and the other at 83, to honor his mother. Though frivolous the chapter on the woman who bar mitzvahed her dogs and had them read the "woof-Torah" adds nothing helpful some profiles are intriguing.