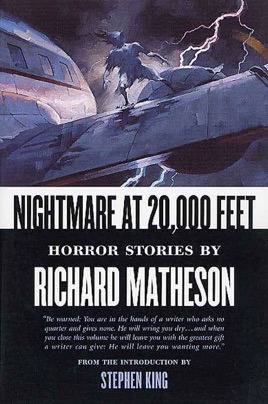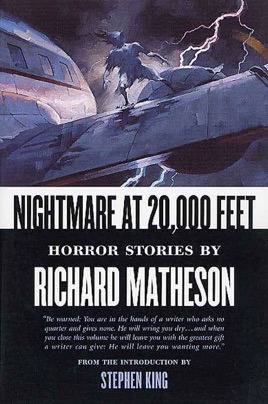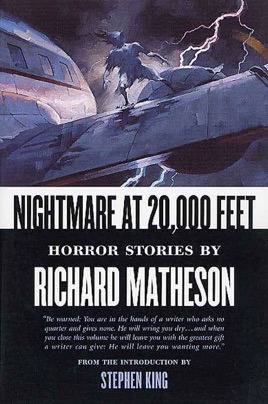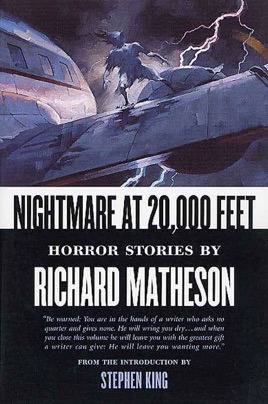 Nightmare At 20,000 Feet
Horror Stories By Richard Matheson
Publisher Description
Remember that monster on the wing of the airplane? William Shatner saw it on The Twilight Zone, John Lithgow saw it in the movie-even Bart Simpson saw it. "Nightmare at 20,000 Feet" is just one of many classic horror stories by Richard Matheson that have insinuated themselves into our collective imagination.

Here are more than twenty of Matheson's most memorable tales of fear and paranoia, including:

"Duel," the nail-biting tale of man versus machines that inspired Steven Spielberg's first film;

"Prey," in which a terrified woman is stalked by a malevolent Tiki doll, as chillingly captured in yet another legendary TV moment;

"Blood Son," a disturbing portrait of a strange little boy who dreams of being a vampire;

"Dress of White Silk," a seductively sinister tale of evil and innocence.

Personally selected by Richard Matheson, the bestselling author of I Am Legend and What Dreams May Come, these and many other stories, more than demonstrate why he is rightfully regarded as one of the finest and most influential horror writers of our generation.

At the Publisher's request, this title is being sold without Digital Rights Management Software (DRM) applied.
PUBLISHERS WEEKLY
Although Matheson (I Am Legend; Hell House; etc.) needs no introduction to most horror fans, Stephen King provides one for this collection of classic weird tales in which he appreciatively remembers his mentor's "gut-bucket short stories that were like shots of white lightning." Spanning almost half a century, the influential contents are as much a roadmap to the direction horror fiction has taken since the 1950s as to Matheson's own legacy of spare, scary chillers. In lieu of pedantic priers into the Unknown, he offers sympathetic everymen, like the husband in "First Anniversary," who finds hints of the unearthly suddenly seeping through his comfortably complacent marriage. Matheson strips away horror's traditional gothic clutter to expose ordinary landscapes that perfectly take the imprint of his characters' paranoid fixations: that life's petty annoyances are part of a universal conspiracy to drive a person mad in "Legion of Plotters," and that dangerously malfunctioning household items are channels for a man's self-destructive anger in "Mad House." The agents of horror in these stories are less often the usual supernatural bogies than malignantly endowed everyday objects, like telephones, television sets and home appliances that are all the more frightening for their ubiquity. The well-known title tale about a nervous air traveler is a showcase for the author's trademark less-is-more prose style, which suspensefully delineates a psychological tug-of-war between man and a monster that may be purely imagined. Timeless in their simplicity, these stories are also relentless in their approach to basic fears. FYI:A Grand Master of Horror and winner of a Stoker for Lifetime Achievement, Matheson has also won Edgar and Hugo awards.
More Books by Richard Matheson
See All