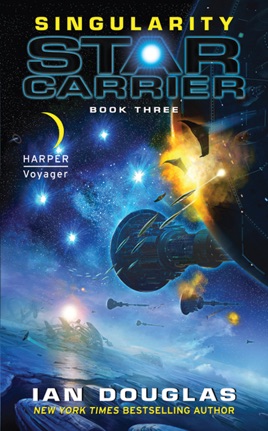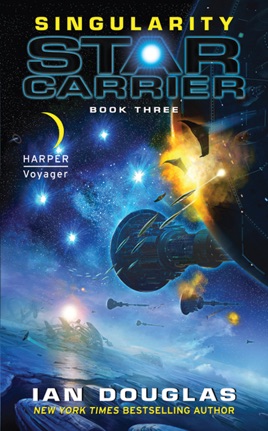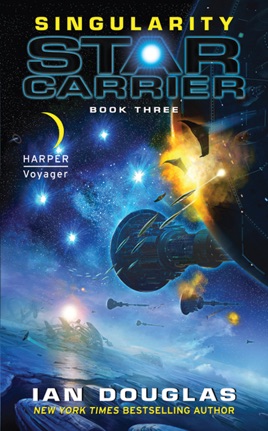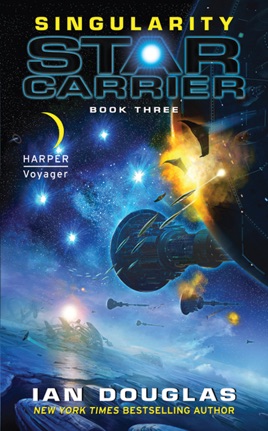 Singularity
Star Carrier: Book Three
Publisher Description
Humankind's vast intergalactic power struggle and future war to bring down an insidious evil alien empire reaches an explosive, page-turning climax in Ian Douglas's Singularity, the third book in his New York Times bestselling Star Carrier series. Blisteringly exciting military science fiction in the vein of the hit TV series "Battlestar Galactica," Singularity pits determined space soldiers against a powerful race of creatures bent upon the total annihilation of a human race on the brink of technological transcendence. A notable descendant of such classic military sf novels as Joe Haldeman's The Forever War and Starship Troopers by Robert Heinlein, Singularity will not disappoint author Douglas's every-growing legion of fans as it conquers Jack Campbell, Rick Shelley, John Ringo, David Sherman and Dan Cragg loyalists as well.
PUBLISHERS WEEKLY
Square-jawed hero Adm. Alexander Koenig, commander of the space battle cruiser America, has recently scored an enormous tactical success against the alien Sh daar. In defiance of an Earth government that wants to surrender to the aliens, he ignores his orders to return to Earth and decides to take the battle to the Sh daar, seeking out their homeworld in hopes of forcing a better peace settlement. He discovers the secret origins of the Sh daar and the reason they so desperately want to prevent humanity from achieving technological singularity. Douglas knows his SF his characters refer casually to the Vinge singularity, named for author Vernor Vinge and his extraterrestrials are intriguingly alien in appearance and psychology. Unfortunately, his human characters are less than engaging, and his obsessive emphasis on military gear and tactics often reads like an interstellar Jane s International Defence Review.
Precise, well written with engrossing storyline.
This is a great military sci-fi read. Douglas maintains a very readable prose all the way through the book. His storyline develops well and doesn't loose any pace right to the end. The twists and turns that make the fiction so good, are combined with both sci-fact and an insightful understanding of military thinking.
Great
Obviously a very intelligent author, absolutely great read. I would recommend for any sci-fi fans