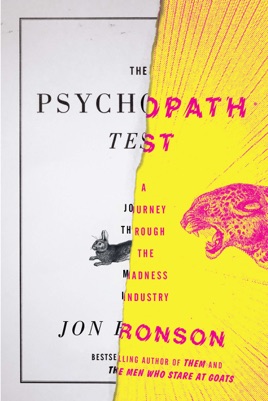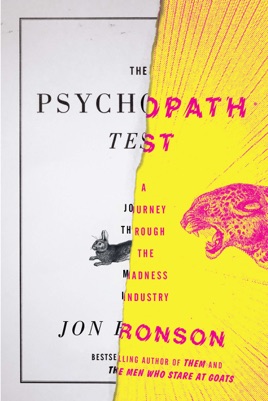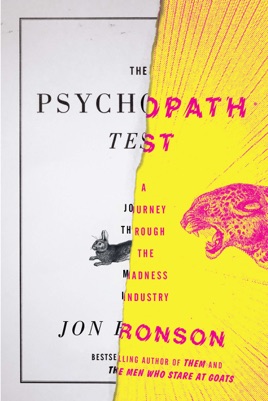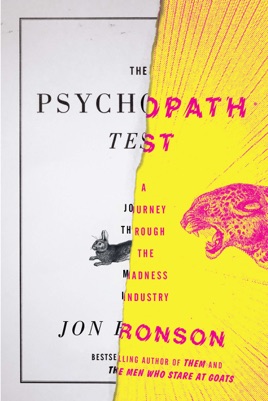 The Psychopath Test
A Journey Through the Madness Industry
Publisher Description
In this madcap journey, a bestselling journalist investigates psychopaths and the industry of doctors, scientists, and everyone else who studies them.

The Psychopath Test is a fascinating journey through the minds of madness. Jon Ronson's exploration of a potential hoax being played on the world's top neurologists takes him, unexpectedly, into the heart of the madness industry. An influential psychologist who is convinced that many important CEOs and politicians are, in fact, psychopaths teaches Ronson how to spot these high-flying individuals by looking out for little telltale verbal and nonverbal clues. And so Ronson, armed with his new psychopath-spotting abilities, enters the corridors of power. He spends time with a death-squad leader institutionalized for mortgage fraud in Coxsackie, New York; a legendary CEO whose psychopathy has been speculated about in the press; and a patient in an asylum for the criminally insane who insists he's sane and certainly not a psychopath.

Ronson not only solves the mystery of the hoax but also discovers, disturbingly, that sometimes the personalities at the helm of the madness industry are, with their drives and obsessions, as mad in their own way as those they study. And that relatively ordinary people are, more and more, defined by their maddest edges.
PUBLISHERS WEEKLY
In this engrossing exploration of psychiatry's attempts to understand and treat psychopathy, British journalist Ronson (whose The Men Who Stare at Goats was the basis for the 2009 movie starring George Clooney) reveals that psychopaths are more common than we'd like to think. Visiting Broadmoor Psychiatric Hospital, where some of Britain's worst criminal offenders are sent, Ronson discovers the difficulties of diagnosing the complex disorder when he meets one inmate who says he feigned psychopathy to get a lighter sentence, and instead has spent 12 years in Broadmoor. The psychiatric community's criteria for diagnosing psychopathy (which isn't listed in its handbook, DSM-IV) is a checklist developed by the Canadian prison psychologist Robert Hare. Using Hare's rubric, which includes "glibness," "grandiose sense of self-worth," and "lack of remorse," Ronson sets off to interview possible psychopaths, many of them in positions of power, from a former Haitian militia leader to a power-hungry CEO. Raising more questions than it answers, and far from a dry medical history lesson, this book brings droll wit to buoy this fascinating journey through "the madness business."
Well rounded!
This book was an excellent discussion on the idea of psychopaths and mental illness. I found that the author put forward and humane and unbiased understanding and for me, echoed the way I felt after reading 'Eating Animals' by Foer; unable to see things in a false binary of good or bad.
The Psychopath Test
Really enjoyed this book. Made me want to read his other books.