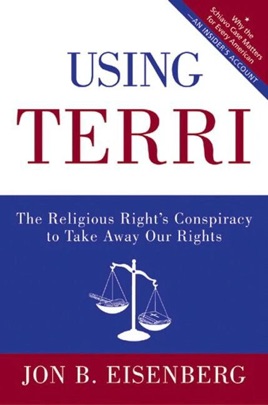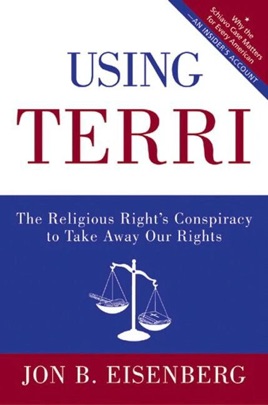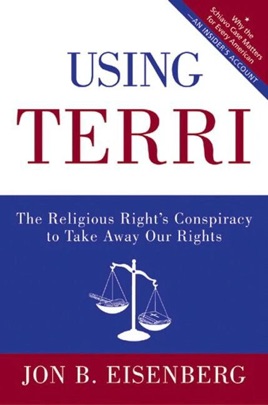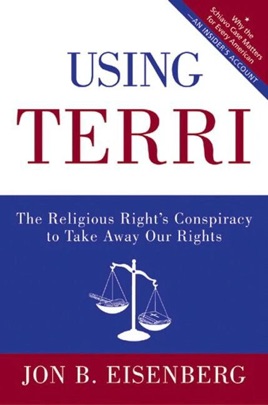 Using Terri
Lessons from the Terri Schiavo Case and How to Stop It from Happening Again
Publisher Description
The Terri Schiavo case was a key battle in a larger political struggle over abortion, stem-cell research, physician-assisted suicide, gay rights, and the appointment of federal judges. The religious Right chose to make it a national spectacle because they thought they could win. They were wrong. But there are many more battles to come. Jon Eisenberg, who served as one of the lead attorneys on Michael Schiavo's side, exposes the religious Right's strategies and follows the money trail to reveal how they are organized, who is funding the movement, and where we can expect future legal maneuvers to combat the American traditions of autonomy and freedom.

Jon Eisenberg has experienced the family struggle of removing a feeding tube from a loved one and witnessed firsthand the Florida drama that will continue to have national legal and political consequences for years to come. What tactics can we expect to see in courtrooms and state legislatures all across this country in the days ahead? Who is behind the funding and what do they hope to accomplish and when? What are the religious and bioethical issues that are at the center of these debates and how will they affect future legal battles? Using Terri gives us a behind-the-scenes look at what happened -- and what's coming.
PUBLISHERS WEEKLY
The debate among Terri Schiavo's relatives over whether to withdraw the feeding tube that kept her alive in a persistent vegetative state for over a decade was settled in March, when, after seven years of litigation and several attempts by state and national legislatures to overturn Florida's court ruling, the tube was removed and Terri died in her husband Michael's arms. But according to Eisenberg, a lawyer who filed briefs on behalf of Michael, the national debate over whether Americans have the right to refuse life-sustaining medical treatment is just getting started. Eisenberg draws upon his previous experience with right-to-die cases to situate the Schiavo drama into an ongoing battle among bioethicists, clergy, right-to-lifers, doctors, politicians, lawyers and individual families. His book is as much a clarion call to protect the rights of personal autonomy as it is a step-by-step review of the Schiavo proceedings and a clear analysis of the legal issues involved. He speaks with engaging intimacy of his introduction to the debate through the illness of a favorite cousin, and the personal touch continues in the book's combination of analysis, reportage, declaration and memoir. Eisenberg raises substantial and urgent legal issues, and the accusations he fires-that the video clips of Terri shown on TV were grossly distorted by editing, that Tom DeLay, who sponsored a Congressional bill mandating the reinsertion of Terri's feeding tube, once ended life-sustaining treatment for his own father, that the religious right aims to dismantle the court system entirely-are potent. With legislation that would bar feeding tube removal pending in 12 states, this book is a timely and cogent argument for Americans' right to decide such end of life issues for themselves.
More Books by Jon Eisenberg
See All