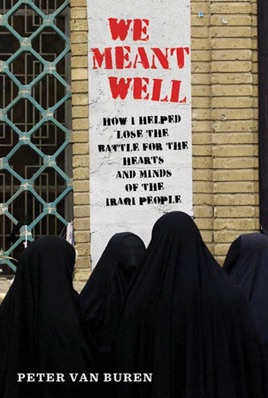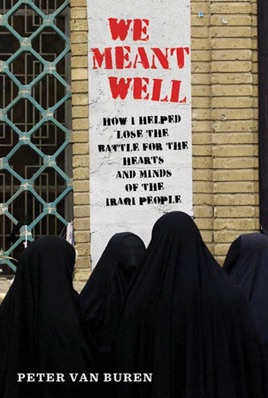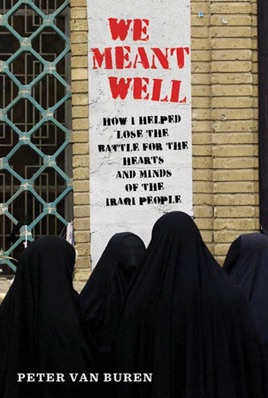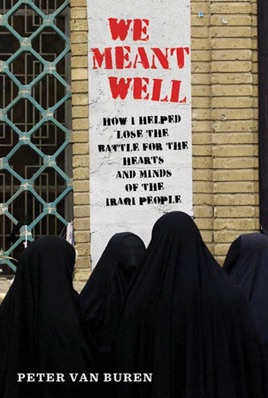 We Meant Well
How I Helped Lose the Battle for the Hearts and Minds of the Iraqi People
Publisher Description

A Kirkus Reviews Best Nonfiction of 2011 title

From a State Department insider, the first account of our blundering efforts to rebuild Iraq—a shocking and rollicking true-life tale of Americans abroad

Charged with rebuilding Iraq, would you spend taxpayer money on a sports mural in Baghdad's most dangerous neighborhood to promote reconciliation through art? How about an isolated milk factory that cannot get its milk to market? Or a pastry class training women to open cafés on bombed-out streets without water or electricity?

According to Peter Van Buren, we bought all these projects and more in the most expensive hearts-and-minds campaign since the Marshall Plan. We Meant Well is his eyewitness account of the civilian side of the surge—that surreal and bollixed attempt to defeat terrorism and win over Iraqis by reconstructing the world we had just destroyed. Leading a State Department Provincial Reconstruction Team on its quixotic mission, Van Buren details, with laser-like irony, his yearlong encounter with pointless projects, bureaucratic fumbling, overwhelmed soldiers, and oblivious administrators secluded in the world's largest embassy, who fail to realize that you can't rebuild a country without first picking up the trash.

Darkly funny while deadly serious, We Meant Well is a tragicomic voyage of ineptitude and corruption that leaves its writer—and readers—appalled and disillusioned but wiser.
PUBLISHERS WEEKLY
In this shocking and darkly hilarious expos of the reconstruction of post-Saddam Iraq, former State Department team leader Van Buren describes the tragicomedy that has been American efforts at nation building, marked by bizarre decisions and wrongheaded priorities. The streets of Baghdad are piled high with mountains of trash; food and clean water are increasingly scarce, but since 2003, the State Department has poured money into such absurdities as outfitting schools (that lack electricity) with computers and importing French pastry chefs to teach cooking lessons. Programs are stymied by cultural ignorance, undermined by local corruption, and badly managed by well-intentioned if oblivious administrators. But photo ops have been enough to satisfy the higher-ups. "If publicity were democracy," Van Buren remarks, "this place would have looked like ancient Athens." A story of the American ambassador and his lawn elegantly evokes the disconnect between American intention and Iraqi suffering: despite blistering heat, seed-stealing birds, and the astronomical cost of water, the ambassador demanded and achieved an emerald green garden within the embassy walls. "We made things in Iraq look the way we wanted them to look," Van Buren writes. With lyrical prose and biting wit, this book reveals the devastating arrogance of imperial ambition and folly.
Mr.
The egregious lack of preparation for the aftermath of the initial invasion of US Forces in Iraq reflects miserably on the US government. President Bush and Vice-President Cheney should be held accountable in a court of law as the mismanagement plus the unnecessary loss of life can mainly be attributed to their actions and inactions.