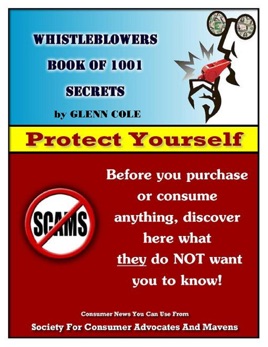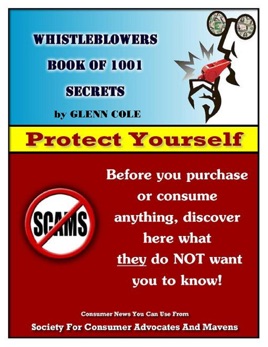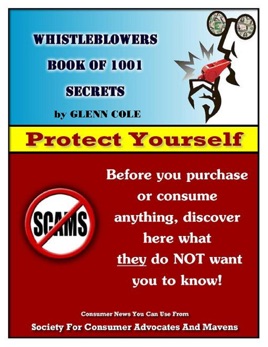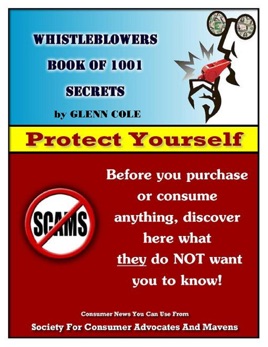 Whistleblowers Book of 1001 Secrets
Consumer News You Can Use (Second Edition)
Publisher Description
Protect yourself from scams and ripoffs! Become aware of what you eat and consume, and how you think and behave.


This is the only known concise, comprehensive,"tell all," no-holds-barred book exposing the unthinkable and unheard-of. It is the only book to touch on most every buying decision a consumer will ever face saving hundreds up to thousands of dollars...and possibly even your life! This book opens the door to most everything revered institutions may not be telling consumers which may threaten their health, wealth, and well-being!


NOT knowing is what makes the American public the American public. What does the media, business, industry, government, law enforcement, science, academia, and capitalists in America fear most? The loss of credibility and revenues!


This book uncovers startling confessions, insider information, deep, dark trade secrets, misleading claims, deceptive sales tactics, gimmicks and dishonest practices, and other news you can use concerning products, services, professions and most everything else imaginable to help consumers avoid getting deceived by advertisers, advertisements, the news media, salespeople, professionals, health care providers, TV, car dealers, the food industry, and so much more.


Legitimately one-of-a-kind, thought-provoking, and all-inclusive incomparable exposé. 1001 products, services, policies, and practices exposed, each listed individually and in detail. Easy to read. Surprising revelations uncovered on each and every page that big business, industry, advertisers, and others would prefer to keep secret.


Both browsers and those looking for quick, money saving tips as well as potential lifesaving information on a wide variety of topics will enjoy this handy manual.


All the scams, schemes, "deals," myths, cons, and inside secrets consumers want to know--but hidden from the public--collected and documented in one ready reference. Alphabetical, clear, sourced and supported. Includes cars and dealers, ads, marketing, travel, food, restaurants, health, drugs, doctors, hospitals, pets, government, law, banks, insurance, funerals, contests, beauty treatments, TV news, media reports, charity, 100s more.


Quality new ebook edition features extensive active Contents (fully linked alphabetical listing of all topics) and linked URLs.