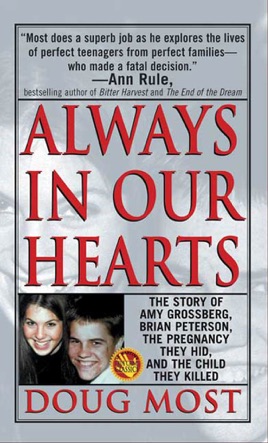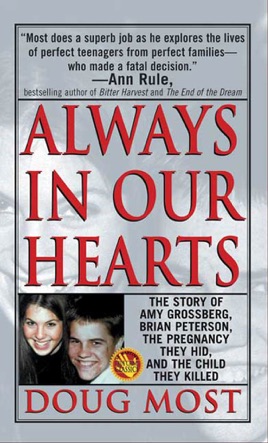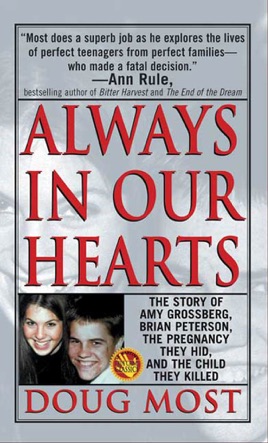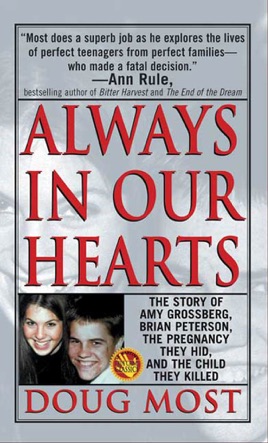 Always In Our Hearts
The Story Of Amy Grossberg, Brian Peterson, The Pregnancy They Hid And The Baby They Killed
Description de l'éditeur
Amy Grossberg and Brian Peterson grew up in a wealthy New Jersey suburb, meeting and falling in love while still in high school, then set out for college with their classmates. But in November of their Freshman Year, the two young lovers spent a night in a Delaware motel room where, after hiding her pregnancy from her family and her friends for nine months, Amy gave birth to a baby boy. Only she and Brian knew the child even existed . . . until the next morning when the newborn's corpse turned up in the motel dumpster. The case caused a countrywide outrage, and the teenagers ended up in court, desperately fighting for their lives and ultimately against each other...

Always in Our Hearts is the true story of a couple driven to kill their newborn child and the murder that shocked the nation.
PUBLISHERS WEEKLY
Most takes a sensational news story that he covered for the Record, a New Jersey newspaper, and draws from it one fairly tired lesson: parents, especially suburban parents who think that their kids are fine, have to make sure that the lines of communication are open between themselves and their children. In 1996, two 18-year-old college freshmen, Amy Grossberg and Brian Peterson, made headlines after they checked into a Delaware motel where Grossberg subsequently delivered a baby boy whom Peterson wrapped in a plastic bag and threw in a Dumpster. Most recounts these events and the trial that followed in clear journalistic style, but his account suffers because he was unable to interview Grossberg, Peterson or any family members. He provides an interesting description of the upper-middle-class New Jersey suburb where the two lived and offers a few well-worn theories as to why they didn't tell their families about the pregnancy or seek help: wealthy parents give their children luxuries but don't teach them values; Peterson's parents were divorced; Grossberg was afraid of displeasing her mother. But Most's reliance on a court transcript of an interview with Grossberg's mother leads him to speculate excessively about her possible bad parenting while neglecting the three other parents involved and giving short shrift to the moral culpability of Grossberg and Peterson themselves. Illustrations not seen by PW. 25,000 first printing; first serial to New Jersey Monthly and Delaware Today; author tour.