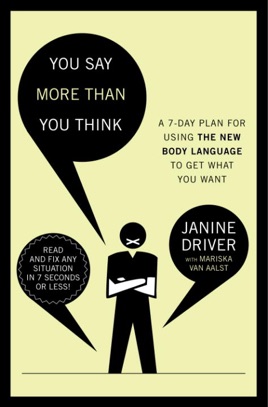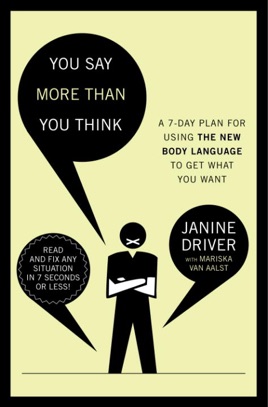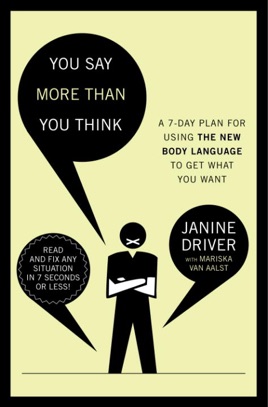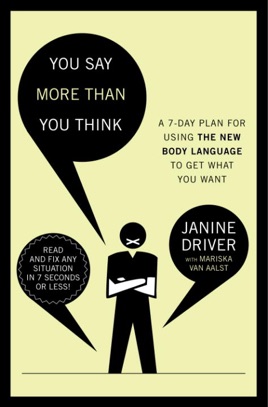 You Say More Than You Think
Use the New Body Language to Get What You Want!, The 7-Day Plan
Description de l'éditeur
Now You're Talking!
Do you want to be bulletproof at work, secure in your relationship, and content in your own skin? If so, it's more important than ever to be aware of what your body is saying to the outside world. Unfortunately, most of what you've heard from other body language experts is wrong, and, as a result, your actions may be hurting, not helping, you.
 
With sass and a keen eye, media favorite Janine Driver teaches you the skills she used every day to stay alive during her fifteen years as a body-language expert at the ATF. Janine's 7-day plan and her 7-second solutions teach you dozens of body language fixes to turn any interpersonal situation to your advantage. She reveals methods here that other experts refuse to share with the public, and she debunks major myths other experts swear are fact: 

Giving more eye contact is key when you're trying to impress someone. Not necessarily true. It's actually more important where you point your belly button. This small body shift communicates true interest more powerfully than constant eye contact.

The "steeple" hand gesture will give you the upper hand during negotiations and business meetings. Wrong. Driver has seen this overbearing gesture backfire more often than not. Instead, she suggests two new steeples that give you power without making you seem overly aggressive: the Basketball Steeple and the A-OK Two-Fingered Steeple.

Happy people command power and attention by smiling just before they meet new people. Studies have shown that people who do this are viewed as Beta Leaders. Alpha leaders smile once they shake your hand and hear your name. 
 
At a time when every advantage counts—and first impressions matter more than ever—this is the book to help you really get your message across.
PUBLISHERS WEEKLY
A former body-language specialist with the Department of Alcohol, Tobacco and Firearms, Driver has put her life on the line more times than she can count, depending on her understanding of body language-how to read it and how to use it-to survive. Now a professional body-language trainer, Driver puts her lessons to paper with straightforward prose and easy-to-use methodology, intended to help readers break bad habits, overcome misleading assumptions, avoid blind spots, and project the kind of confidence they need for successful communication and/or negotiation. Offering a number of tips across a range of settings (business, romance, courtroom, etc.), Driver's advice will give readers immediate, effective results, such as a step-by-step guide to "Active Listening Head Moves": "Now try the head tilt with the double nod. Did the person speed up the conversation?" Sound examples (many drawn from her professional adventures), revealing exercises and self-tests, and a game sense of humor keep Driver's considerable expertise from overwhelming readers, making this an enjoyable and highly practical self-help.
Plus de livres par Janine Driver & Mariska van Aalst
Tout afficher