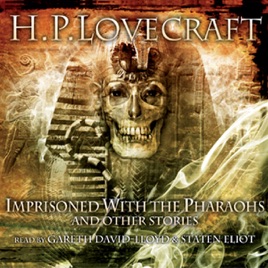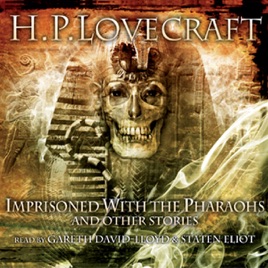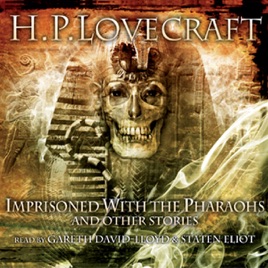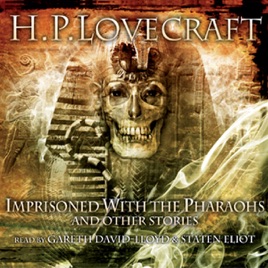 Imprisoned by the Pharaohs and Other Stories (Unabridged)
Publisher Description
Includes the short stories: "The Alchemist" and "The Nameless City"

H.P. Lovecraft is considered one of the most influential horror and fantasy writers of the 20th century. His work, which is frequently compared to the likes of Edgar Allan Poe, explored the idea that life is incomprehensible to human minds and the universe is fundamentally alien.

This volume showcases arguably some of Lovecraft's best work. "Imprisoned with the Pharaohs" was originally written for the world-famous escape artist Harry Houdini and was published under Houdini's name in the magazine Weird Tales.

This release also contains an example of some of Lovecraft's earliest work, including "The Alchemist", which was written when he was only 18, and "The Nameless City", the first story to investigate the powerful Cthulu Mythos for which Lovecraft is famous.

Gareth David-Lloyd has recently starred in the hit BBC 2 series Torchwood. Before playing Ianto Jones, Gareth trained at the National Youth Theatre, and his credits include the role of Sebastian in Twelfth Night, as well as television appearances in Mine All Mine, Absolute Power and Rosemary & Thyme. Staten Eliot is an ambitious young actor whose film credits include Lycanthropy, The Basement, and Camp X-Ray: Ghosts of Guantanamo Bay. Staten made his film debut in Flip a Coin, the first English-speaking film by award-winning Swedish director David Flamholc. Dubbed as "a slick East End version of Notting Hill", reviewers branded Staten "the next Jude Law". Other television credits include Marcus in Totally Frank (Channel 4) and James in Trust (BBC 1) alongside Ian McShane and Robson Green.
Appallingly read
Lovecraft has to be my favourite horror author and having exhausted the other audiobooks available on iTunes I was looking forward to hearing this. Unfortunately it rapidly becomes apparent that the narrator is incapable of the correct pronunciation not only of the arabic names but also of the English required to do justice to the story. Howling errors interrupt every fifth sentence and become so irritating that the listener is entirely distracted from the tale of horror so supremely crafted by a master of his art. The clash between the worthy prose and the ignorant and unimaginative manner of its exposition is painful to endure.

Sloppy production values read lazily to secure a quick pound from the unsuspecting fan. Not worth the money.