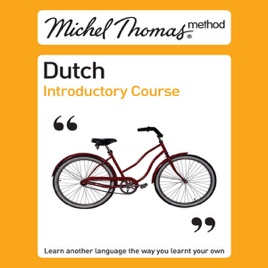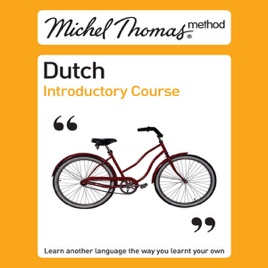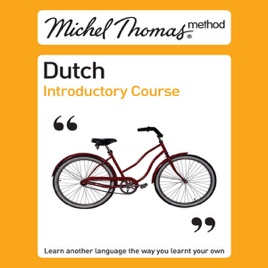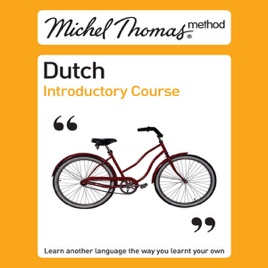 Michel Thomas Method: Dutch Introductory Course (Unabridged)
Publisher Description
Learn another language the way you learnt your own.

You learnt your own language naturally and enjoyably: now you can learn Dutch in the same way. You'll stick with it because you'll love it.
Use the unique method perfected over 50 years by the celebrated psychologist and linguist Michel Thomas.

This method works with your brain, helping you to build up your Dutch in manageable, enjoyable steps by thinking out the answers for yourself.
You learn through listening and speaking: without the pressure of writing or memorising.
You pick up the language naturally and unforgettably.
This is the first two hours of the eight-hour Dutch Foundation Course. Join teacher Cobie Adkins-de Jong and two students in a live lesson, and within the first hour you will be able to construct simple phrases. You will learn the language with the students, hearing both their successes and their mistakes to keep you motivated and involved throughout the course.
Join the millions of people worldwide who have learnt a new language with the Michel Thomas Method.
Very disappointed
I bought this because as a language graduate, I am interested in Michel Thomas' methods. It claims at the beginning 'it'll enable me to speak the language in less than 12 hours, allowing me to express complex thoughts'. I also bought it because i am travelling to Holland and Belgium and wanted a smattering so I could get by.
After finishing the two hour course, we had covered almost no nouns, apart from ones ending in 'ation'. There was nothing useful: no counting, no vocabulary for 'beer' or 'ice cream'. It is a course entirely based on translation, no chance to think in Dutch. There are no question and answer sessions, just drills in English which I then had to translate into Dutch. If I was given a question to ask, there was no learning of the answer. So I could say 'what time is the operation?', but what's the point of that if I can't understand the answer?
I understand that the point of this method is to pinpoint how much of a foreign language I already know - I got on OK with the Arabic and could make myself understood, to a point, in the souk - but surely there are plenty of dutch nouns that are based in English and it would have created a far more practical course if I had been able to order an ice cream, or a beer, or to ask where is the beach or the restaurant!
This seems to be a course for those who would like to learn Dutch for its pure academic pleasure. Very disappointed. Waste of £8.