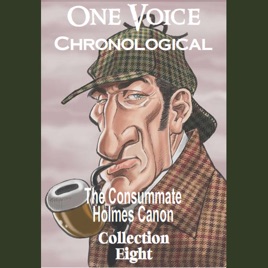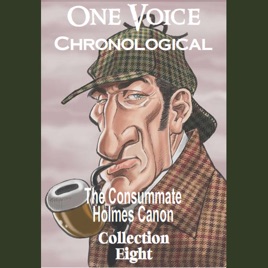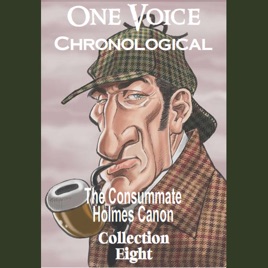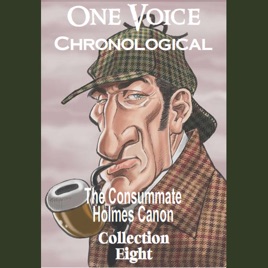 One Voice Chronological: The Consummate Holmes Canon, Collection 8 (Unabridged) [Unabridged Fiction]
Publisher Description
Seven more cases solved by Sherlock Holmes:

His Last Bow: "Sherlock Holmes: His Last Bow" takes us to the beginnings of World War I and opens with a clandestined meeting between agents of the German Empire

The Adventure of the Illustrious Client: Holmes is retained by a mysterious client, through an intermediary, to rescue the daughter of a titled man from the clutches of a murderous but charismatic criminal, who seems to have irretrievably won her heart.

The Adventure of the Blanched Soldier: When a young man's recent comrade-in-arms becomes strangely inaccessible, Sherlock Holmes comes to his aid. But the more deeply the detective investigates the missing man's whereabouts, the more adamant become the measures of his immediate family to block all attempts to communicate with the soldier's friend.

The Adventure of the Mazarin Stone: In this entry from The Casebook of Sherlock Holmes, the master detective is on the trail of the stolen crown jewel known as the Mazarin Stone. Knowing his activity on the case makes him a target for murder, Sherlock Holmes prepares a ruse to smoke out the suspected thief.

The Adventure of the Sussex Vampire: "This agency stands flat-footed upon the ground, and there it must remain. The world is big enough for us. No ghosts need apply." So says Sherlock Holmes at the opening of this story. Holmes investigates what appears to be a case of vampirism in an upper class home.

The Adventure of the Three Garridebs: A perplexing mystery involves the search for three men with the surname Garrideb in order to claim an eccentric American's $15 million estate.

The Problem of Thor Bridge: A love triangle culminates in the shooting death of the wife and murder charges against the household's beautiful governess. The arrogant, combative husband seeks the services of Sherlock Holmes to clear the young lady in question.