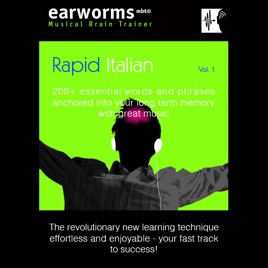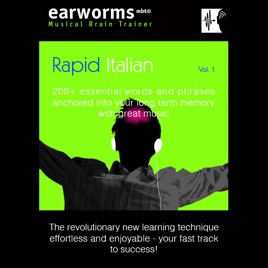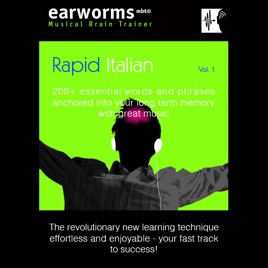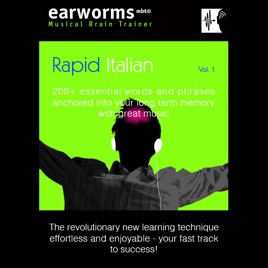 Rapid Italian: Volume 1 (Unabridged)
Publisher Description
Earworms mbt© is a revolutionary accelerated learning technique that takes the hard work out of learning.

By listening to these specially composed melodies with their rhythmic repetitions of Italian and English a few times, you pick up over 200 essential words and phrases that will not just be on the tip of your tongue, but will be burned deeply into your long-term memory in next to no time.

If you like music, and want to make rapid progress without any formal knowledge of language learning, earworms mbt© Rapid Italian is the course for you.

Volume 1 is your survival kit of essential words and phrases to get you by on your trip abroad. Volume 2 will have you talking about yourself, past, present, and future, expressing your opinions, chatting, and flirting (who knows?).
How Brill
Rapid Italian: Volume one is absolutly brilliant. Iv tryed to learn langauges from CD's and tapes before and its been so boring and hard but with this its fantastic. Its all done to music and it makes learning easy, its like learning a new album. And the way they talk and repeate things makes it sink in better. Iv only lissend to it twice know but I can rember quite a bit. I cant wait for Volume 2 so I can keep learning. This is brill give it a go.
Quality
This is such a great idea, one of those that is so simple and obvious you wish you had thought of it first! Ideal for pre-travel language training, and a great start in mastering a language. Just sit back and relax, and soon you know enough to get by without having to flick embarrassingly through a phrasebook as your waiter tuts at your ignorance. Just make sure you put it in a separate playlist so it doesn't come on in shuffle mode during a party!
Fantastico
This is simple the most fun I've had with a language, ever. If only it had been like this at school! Bring on volume 2.