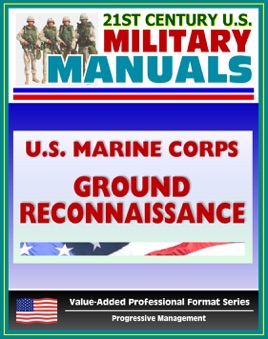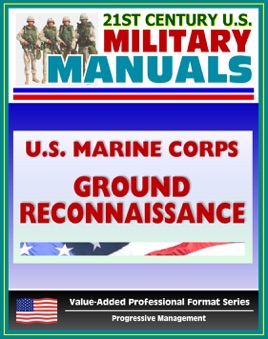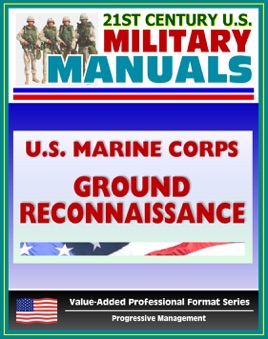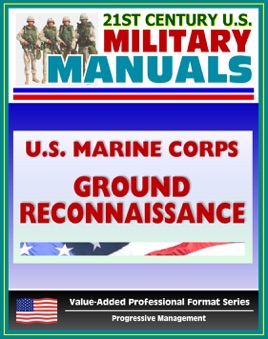 21st Century U.S. Military Manuals: U.S. Marine Corps (USMC) Ground Reconnaissance - MCWP 2-15.3 (Value-Added Professional Format Series)
Publisher Description
Part of our value-added professional format series of U.S. military manuals, this U.S. Marine Corps manual establishes doctrine, tactics, techniques, and procedures (TTP) for Marine Corps ground reconnaissance. It takes into account the Marine Corps warfighting philosophy, maneuver warfare concepts, the range of military operations, including military operations other than war (MOOTW), and existing Marine Corps reconnaissance force structure. MCWP 2-15.3 is intended for officers and enlisted personnel who are involved with the direction, planning, and execution of ground reconnaissance missions. It is also designed to assist commanders and staffs of all units within the MAGTF with integrating ground reconnaissance planning and execution with all of their other planning and operations.

Reconnaissance is an essential, continuous function conducted by the commander to collect information about the battlespace and the enemy. Of all the possible means of gaining such information, ground reconnaissance offers the advantage of placing human eyes and other sensors (audio, imagery, seismic, etc.) on the target. Ground reconnaissance personnel, able to exercise on-the-spot judgment and expertise, can respond flexibly to unexpected developments and observations. Marine ground reconnaissance organizations therefore play a key role in helping Marine commanders apply maneuver warfare concepts and maintain the accurate, up-to-date, shared situational awareness desired for operational maneuver from the sea (OMFTS).

As a bonus, this reproduction includes the Marine Corps Manual, the basic publication of the United States Marine Corps issued by the Commandant of the Marine Corps and approved by the Secretary of the Navy - sold separately for $7.99. It is a regulatory publication for the Department of the Navy as defined in U.S. Navy Regulations. The Marine Corps Manual is designed primarily for use by Marine Corps commanders and their staffs, Navy officers exercising command over Marines, the staff of the Commandant of the Marine Corps, and the staffs of the bureaus and offices of the Navy Department. Contents: Chapter 1 - General Administration And Management * Chapter 2 - Manpower * Chapter 3 - Operations And Readiness * Chapter 4 - Logistics

The manual describes the Marine Corps mission and functions: The Marine Corps shall be organized, trained, and equipped to: (1) Provide Fleet Marine Forces of combined arms, together with supporting air components, for service with the United States Fleet in the seizure or defense of advanced naval bases and for the conduct of such land operations as may be essential to the prosecution of a naval campaign. (2) Provide detachments and organizations for service on armed vessels of the Navy, and security detachments for the protection of naval property at naval stations and bases. (3) Develop, in coordination with the Army, Navy, and Air Force, the doctrines, tactics, techniques, and equipment employed by landing forces in amphibious operations. The Marine Corps shall have primary interest in the development of those landing force doctrines, tactics, techniques, and equipment which are of common interest to the Army and the Marine Corps.
More Books by Progressive Management
See All