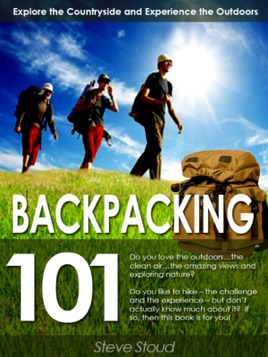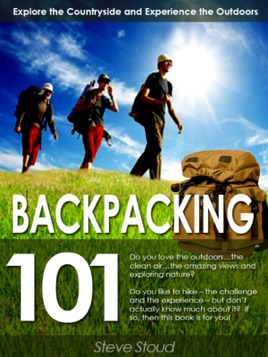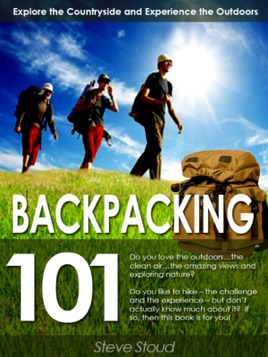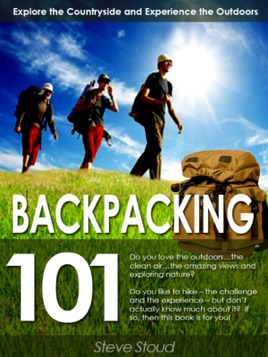 Backpacking 101: Explore the Countryside & Experience the Outdoors
Publisher Description
Interested in backpacking...? Do you love the outdoors... the clean air... the amazing views... and exploring nature? Do you like to hike... the challenge... and the experience... but don't actually know much about it? If so, then you've found the right book!

Everyone loves the outdoors...The sun... the fresh air... the beautiful sceneries... and the ability to get away from it all. We were made to retreat into the wilderness. It is within nature, away from civilization, that so many people find their peace. That is why many families go on camping trips to National Parks. We feel the call to the outdoors...And the ultimate call to nature is backpacking.

Nothing else really gets you out into the wilderness like backpacking.

There are few things like backpacking that refreshes your mind and soul.

You can go on a short weekend trip, or plan a multi-month long excursion across a continent. There are an array of different types of hikes to choose from...Ranging from trails in your local area, to hiking Mount Everest. Many casual hikers just go out for a few days to recharge their batteries.

But many people don't go hiking simply because they don't know how to get started.

They would love to experience the world of backpacking, but they have no background with it... Causing them to miss out on this amazing experience.

Do you really want to live in the dark about how to start backpacking?

How many opportunities have you missed out on because you didn't know a few simple basics about backpacking?

Why be held back any longer? Start adding amazing memories to your summer-time experiences today.

In this complete guide to backpacking, you'll learn:

- Backpacking Basics: Key insights into making your first hike an amazing one
- Your First Trail Experience: How to get out on the trail quickly and easily
- Selecting The Perfect Backpack: Go further, hike higher, and see the sights with the pack that will get you there
- Staying Warm at Night: Have all the energy you need during the day because you picked the right bag for the night
- Your Thankful Feet: How to get to the top pain free with the right pair of boots.
- How to Pick out Your Tent: You never want to get caught in unpleasant weather without a good tent. Make sure you have the right one with these simple keys.
- Bathroom in Forest: Stay clean and healthy with these guidelines for toiletries in the forest
- Clothes That Keep You Dry: The clothing you choose can either make or break your trip, make sure you're prepared with the right wardrobe in your pack
- First Aid: Make sure you're prepared just in case something unexpected happens
- Knowing The Trail Difficulty: These tips will help make sure you're on a challenging hike without putting you in danger
- Preventing Lift Injures: Keep your back and knees healthy in order keep hiking for years
- International Hiking: Everything you need to know in order to make sure your hiking experience abroad is the best it possibly can be
- Travel Keys: How to get to where you want to go the easiest ways possible
- Hostels: Get the best experience possible with these helpful insights
- Trip Prep: These great checklists will make sure you're prepared without leaving anything behind
- Food and Eating: Stay fed and full of energy by eating the right food (and knowing how to prepare it) while on the trail
- Plus much, MUCH MORE!

This just scratches the surface of what's in this book. If you've ever been interested in backpacking, but didn't know where to start, then you need this book to get you started on the right foot. It contains everything you need to know to begin backpacking today!