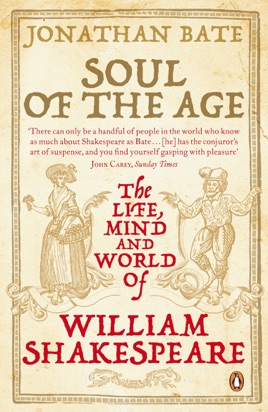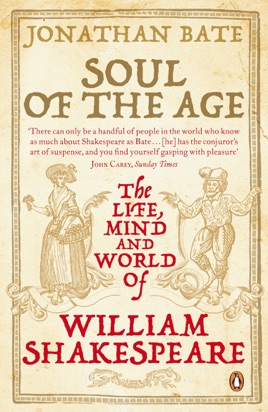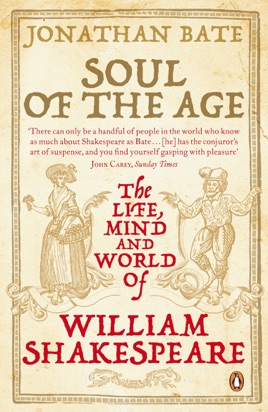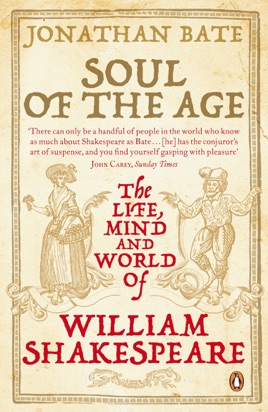 Soul of the Age
The Life, Mind and World of William Shakespeare
Publisher Description
How did plague turn Shakespeare from a jobbing hack into a courtly poet? How did Bottom's dream rewrite the Bible? How did Shakespeare's plays lead to the deaths of an earl and a king? And why was he the one dramatist of his generation never to be imprisoned?

Weaving a dazzling tapestry of Elizabethan beliefs and obsessions, private passions and political intrigues, Soul of the Age leads us on an exhilarating tour of the extraordinary, colourful and often violent world that shaped and informed Shakespeare's thinking. Written by one of the world's leading experts, it combines almost everything there is to know about the man and his work in one sensational narrative, and brings us closer than ever to understanding what being Shakespeare was actually like.
PUBLISHERS WEEKLY
Ben Jonson claimed that Shakespeare "was not of an age, but for all time!" Conversely, noted British Shakespeare scholar Bate (The Genius of Shakespeare) attempts to prove that the Bard effectively represents the politically and socially complicated 16th-century environment and that his work can then theoretically illuminate his mysterious personal life with the notable exception of his marriage. While much is conjectured here, the scant biographical resources are well-used to painstakingly define Shakespeare's careers as actor, poet and playwright and to refute popular myths such as his purported retirement from writing. Bate's approach is more successful in confirming that Shakespeare typifies his age than in providing substantive biographical information based on hints hidden in the prolific body of work. Even so, Bate offers an excellent resource for students of English literature and the Elizabethan era in this thoughtful, well-researched and even playful explication of Shakespeare's plays and sonnets as they resonated in both the Elizabethan sphere and the less austere Stuart court while remaining relevant today. Illus.
More Books by Jonathan Bate
See All