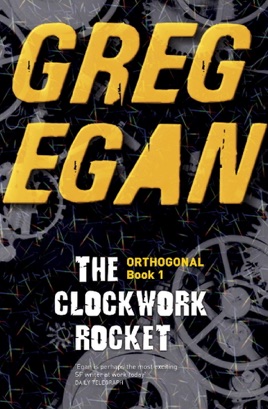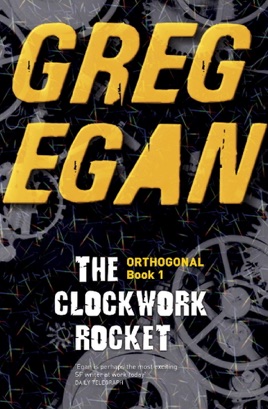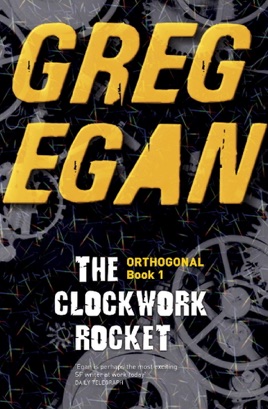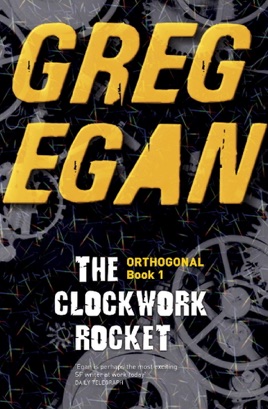 The Clockwork Rocket
Orthogonal Book One
Publisher Description
In Yalda's universe, light has mass, no universal speed, and its creation generates energy; on Yalda's world, plants make food by emitting light into the dark night sky. And time is different: an astronaut might measure decades passing while visiting another star, only to return and find that just weeks have elapsed for her friends.

On the farm where she lives, Yalda sees strange meteors that are entering the planetary system at an immense, unprecedented speed - and it soon becomes apparent that more of this ultra-fast material is appearing all the time, putting her world in terrible danger. An entire galaxy is about to collide with their own.

There is one hope: a fleet sent straight towards the approaching galaxy, as fast as possible. Though it will feel like weeks back home, on board, millennia will pass before the collision, time enough to raise new generations, and time enough to find a way to stop the ultra-fast material.

Either way, they have a chance to save everyone back on the home world.
PUBLISHERS WEEKLY
Scientific treatise (with charts and diagrams) melds with character study and social commentary in Hugo-winner Egan's stand-alone steampunk SF novel. On a faraway world with technology and culture roughly analogous to those of our Victorian era, the female polymorph Yalda studies the properties of light and discovers a celestial object that seems certain to strike her planet. A society that harshly subjugates women (easy when childbirth inevitably kills the mother) works against her as she tries to build and launch a rocket that will take her people to safety. Difficult, dense scientific conjecturing makes this a nearly impenetrable read for those lacking physics degrees or superior spatial thinking, but the societal analogy, totally alien culture, and intriguing characters are potent reasons to power through.
Somehow I knew it would be a torus
Great book but not for the faint hearted. This would be hard core physics if it was about our own universe and not a made up one. An amazing work. Greg does not compromise.
Fantastic!
An awesome book about a fascinating universe. I can't wait for the next one!