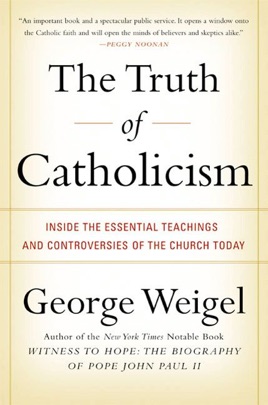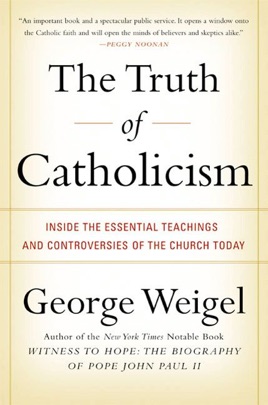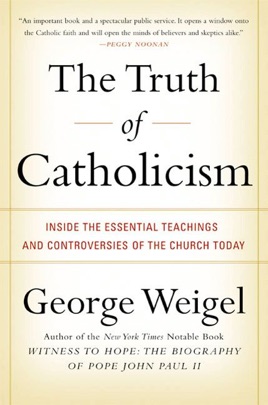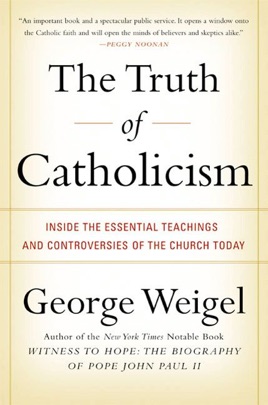 The Truth of Catholicism
Inside the Essential Teachings and Controversies of the Church Today
Publisher Description
The Catholic Church may be the most controversial institution in the world. Whether the question is the uniqueness of Jesus Christ, the relationship of Catholicism to other religious communities, the meaning of freedom, the use and abuse of sex, the dignity of human life from conception until natural death, or the role of women, the Catholic Church has taken challenging positions that some find inexplicable, even cruel.

In The Truth of Catholicism, George Weigel, author of Witness to Hope: The Biography of Pope John Paul II, explores these perennial questions and more, showing Catholicism and its controversies from "inside" the convictions that make those controversies not only possible but necessary. The truths of Catholicism then come into clearer focus as affirmations and celebrations of human life and human love, even as they challenge us to imagine a daring future for humanity and for ourselves.
PUBLISHERS WEEKLY
Because the teachings of the Catholic Church are best known to the general public and to many Catholics through the filter of the secular press, papal biographer Weigel (Witness to Hope) uses this book to clarify 10 issues that have engaged the public's attention in recent years. A theologian and Catholic commentator, Weigel undertook his task after encountering numerous misconceptions about the faith during a 16-month book tour for Witness in 1999 and 2000. Here, he illuminates the church's teachings about Jesus, morality, sexuality, suffering and women's ordination, as well as Catholicism's relationship to democracy, other Christian denominations and other religions. In doing so, he offers much-needed precision about teachings that have often been muddled, as reporters, forced to condense church documents into sound bites and headlines, have missed much of their texture and shading or have tried to interpret them using secular standards. For example, Weigel begins the book by revealing how some news organizations reported on the 2000 Vatican declaration, Dominus Iesus (The Lord Jesus), by claiming the Catholic Church had declared itself "Number One," even though the document did little more than reassert traditional Christian teaching that Jesus Christ is the savior of all. Weigel's approach makes this book an excellent resource for anyone curious enough about Catholicism to look behind the headlines.
More Books by George Weigel
See All