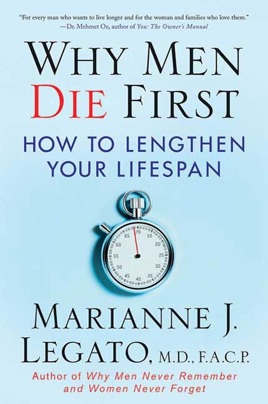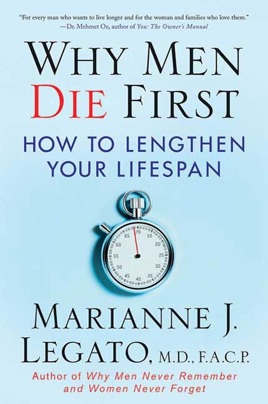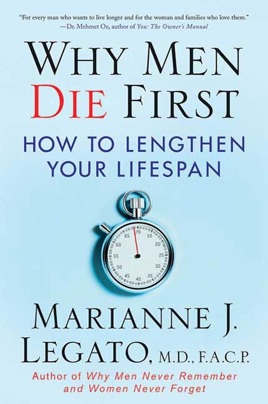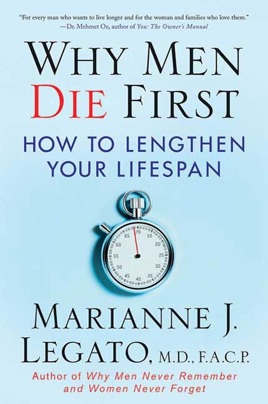 Why Men Die First
How to Lengthen Your Lifespan
Publisher Description
It is a universal fact that men die before women. But the causes of this have long remained unexplored. In this trailblazing book, Dr. Marianne Legato--an expert in gender specific health--examines the reasons behind men's fragility and explains what they need to do to live longer.

A bestselling author and Professor of Medicine at Columbia University, Dr. Legato shows how the forces of culture and biology conspire against male mortality. Drawing on the latest research and narrated through the lives of her patients, she delves into problems that both men and women care about-- from why the male fetus is at greater risk, to why boys have a hard time adjusting to school, to how elevated levels of the stress hormone cortisol make men more prone to aggression and why they are more likely to die from cardiac arrest or cancer and even depression.

Why Men Die First offers specific advice on what men can do to live better, including

* how on-one time with young boys reduces anixiety and attention deficit problems

* lifestyle changes that can prevent cardiovascular disease and osteoporosis

* why young men take on high risk endeavors and how to decrease the stress

* how to cope with mid life depression and feelings of emasculation and uselessness

* how testosterone shots can mitigate the unpleasant symptoms of aging

Dr. Legato brings the possibility of both mental and physical wellbeing to men in this compelling and inspiring book. A superstar physician, celebrated annually in New York Magazine's Best Doctors Issue, Dr. Legato is well poised to take on this urgent topic with her unimpeachable authority and natural warmth.
PUBLISHERS WEEKLY
Legato, a physician and one of the founders of gender specific medicine, provides a broad-brush look at the relative fragility of men who "at every point of their lives die an average of seven years earlier than women." Much of the book will be familiar to anyone who read John Gray's Men are from Mars, Women are from Venus (or, indeed, Legato's own Why Men Never Remember and Women Never Forget), emphasizing the debatable notions that men and boys are aggressive where most women are team players, and that women value "the ambiance of the workplace and their relationship with other workers" over attaining power within a corporate structure. She breaks newer ground when she examines the genetics; the Y chromosome, she contends, may be more vulnerable to mutation, leading her to ponder whether "men have a future," or might disappear in 125,000 years (on the other hand, it may be that "the Y drives evolution"). Later chapters look at depression, diseases, sports and work as they relate to men. Though a well-sourced overview, Legato's attempt to give readers a "new view of men" suffers from a lack of fresh perspective.