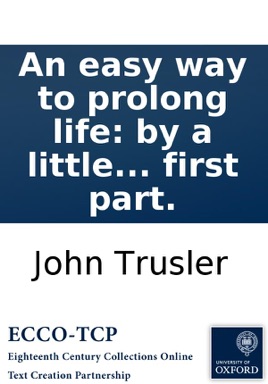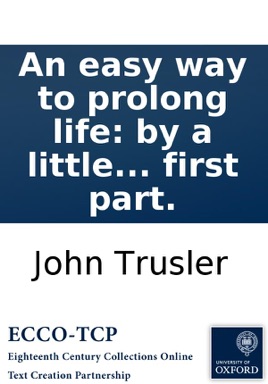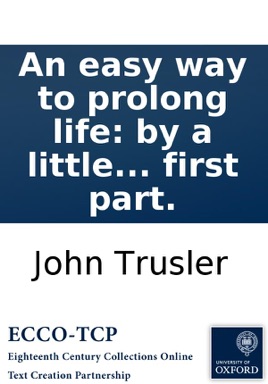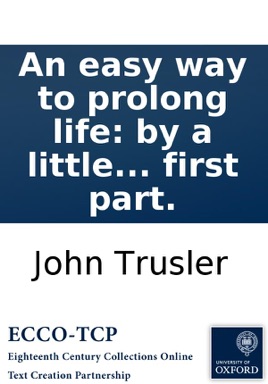 An Easy Way to Prolong Life: By a Little Attention to Our Manner of Living. Containing Many Salutary Observations, On Exercise, Rest, Sleep, Evacuations, &C. ... And Some Remarks On Drunkenness, Smoking, and On the Utility of Taking Physic In the Spring.
Publisher Description
An easy way to prolong life: by a little attention to our manner of living. Containing many salutary observations, on exercise, rest, sleep, evacuations, &c. ... And some remarks on drunkenness, smoking, and on the utility of taking physic in the spring. The second part. By a medical gentlemam [sic], author of the first part. Easy way to prolong life. Trusler, John, 1735-1820. The fourth edition improved. [4],39,[1]p. ; 8⁰. London : printed for the author, and sold by J. Bell, [1780?] A medical gentleman = John Trusler. Reproduction of original from the Countway Library of Medicine. NLM 18th cent. English Short Title Catalog, ESTCN7173. Electronic data. Farmington Hills, Mich. : Thomson Gale, 2003. Page image (PNG). Digitized image of the microfilm version produced in Woodbridge, CT by Research Publications, 1982-2002 (later known as Primary Source Microfilm, an imprint of the Gale Group).