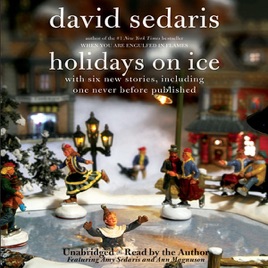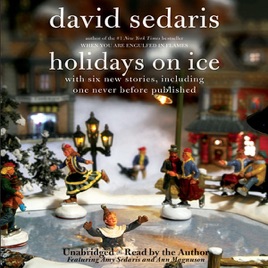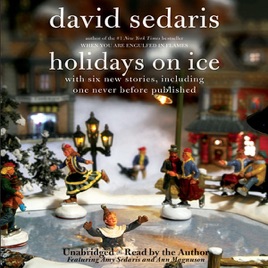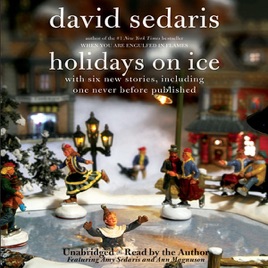 Holidays on Ice (Unabridged)
Publisher Description
Holidays on Ice collects six of David Sedaris's most profound Christmas stories into one volume. This drinking man's companion can be enjoyed by the warmth of a raging fire, the glow of a brilliantly decorated tree, or even in the backseat of a van or police car.

If the very thought of Christmas makes you want to run screaming for a wig or yarmulke, consider including David Sedaris's new and updated Holidays on Ice in your disguise kit. It's light, portable, and easy to hide behind a tallis or foot-long beard. And now with six additional holiday-themed stories, including one never before published, it is the ideal companion with which to pass long hours beside the menorah.

Even if you take it straight-up Christian, if you choose to spend the holidays glazing hams, say, or baking cookies shaped like hobos, you will find this audiobook indispensable. Here is the timeless "SantaLand Diaries," which immortalised the struggle of department store elves the world over. Here is "Dinah, the Christmas Whore," in which the Sedaris family opens its heart to an unexpected, almost Mary Magdalene-like visitor. No matte what your favourite holiday, you won't want to miss celebrating year-round with the writer Entertainment Weekly has called "the preeminent humorist of his generation."
APPLE BOOKS REVIEW
David Sedaris has no problem with tipping sacred cows; this collection makes Christmas the target of his corrosive wit. Tucking into everything from his tribulations as a department-store elf—in the essay that made him a breakout star when he performed it on This American Life—to the increasingly absurd yule-tide one-upmanship of two neighbouring families, Sedaris gleefully pokes holes in our holiday traditions. His oddly-adorable elfin voice and deliciously dry delivery make him the ideal narrator for these wicked, occasionally poignant twists on a fraught season. Once again, Sedaris proves that laughing helps alleviate stress.