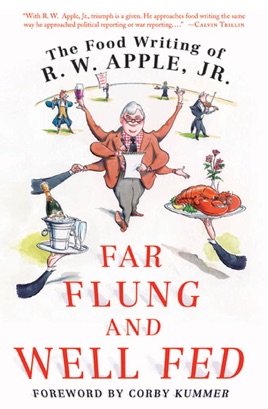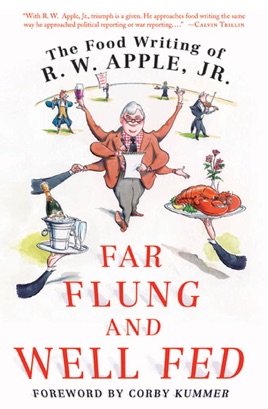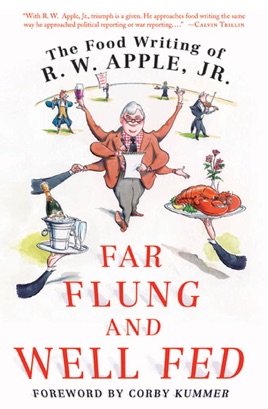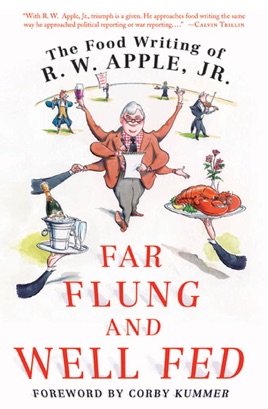 Far Flung and Well Fed
The Food Writing of R.W. Apple, Jr.
Publisher Description
Celebrated journalist R. W. ("Johnny") Apple was a veteran political reporter, a New York Times bureau chief and an incisive and prolific writer. But the role he was most passionate about was food anthropologist. Known both for his restless wideopen mind and an appetite to match, Apple was also a culinary scholar: witty, wide-ranging and intensely knowledgeable about his subjects. Far Flung and Well Fed is the best of legendary Times reporter Apple's food writing from America, England, Europe, Asia and Australia. Each of the more than fifty essays recount extraordinary meals and little-known facts, of some of the world's most excellent foods —from the origin of an ingredient in a dish, to its history, to the vivid personalities—including Apple's wife, Betsey—who cook, serve and eat those dishes.

Far Flung and Well Fed is a classic collection of food writing— lively, warm and rich with a sense of place and taste—and deserves to join the works of A.J. Liebling, Elizabeth David, M.F.K. Fisher and Calvin Trillin on the bookshelf.
PUBLISHERS WEEKLY
Written in the decade before his untimely death in 2006, this compilation showcases more than 50 engaging, food-centric travel essays by longtime New York Times writer R.W. ("Johnny") Apple. The grandiose dispatches cover the U.S.'s best soft-shell crabs, the most authentic kosher corned beef and the finest cherry pie. Internationally, he dubs Singapore a "dim sum nirvana," compares Naples without its tomatoes to "salt without pepper" and finds Dover sole like a "porterhouse steak." Apple's legendary expense account fuels an enormous and discriminating appetite, and his journalistic instincts guide an impressive selection of experts in support of Apple's decisive interpretations, including one Philadelphia editor who authoritatively explains the die-off of Philadelphia's pepper pot soup, but not its cheese steaks. These instructive, well-chosen tidbits convey vivid, sociological portraits of cities, regions and countries, places infused with regional vernacular that is both spoken and eaten. With such stature and scholarship, he can make Dickensian references in describing both English porridge and Italian buffalo mozzarella sound natural. Similarly, only Apple can get away with using words like "toothsome," "unctuous," and "delectable" without sounding like a public relations sham masquerading as a food critic. While Apple's air of superiority can be hard to take, his incisive, insistent writing often remains far superior to the rest of its kind.
More Books by R. W. Apple, Jr.
See All