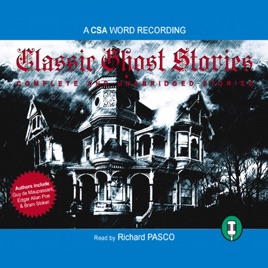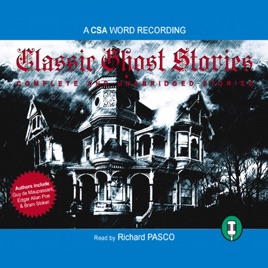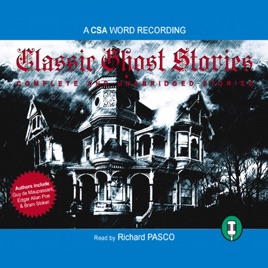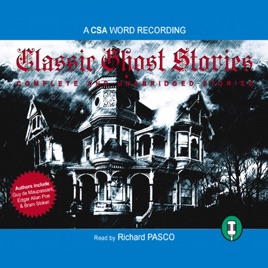 Classic Ghost Stories 1 (Unabridged) [Unabridged Fiction]
Publisher Description
A selection of the most chilling tales ever written.

Rats and mice, and beetles and creaky doors, and loose slates, and broken panes, and stiff drawer handles, that stay out when you pull them and then fall down in the middle of the night...Rats is bogeys, I tell you, and bogeys is rats, and don't you get to think anything else!

Ghosts, vampires, werewolves and even rats, all make an appearance in this collection of frighteningly good classic stories from Bram Stoker, Charles Dickens, Rudyard Kipling and more! Sure to delight on any dark night and narrated with chilling tones by Richard Pasco, classically trained actor and former leading member of the Old Vic Theatre and Royal Shakespeare Company.

'The Judge's House' by Bram Stoker

'Dracula's Guest' by Bram Stoker

'To Be Taken with a Grain of Salt' by Charles Dickens

'The Upper Berth' by F. Marion Crawford

'Who Knows?' by Guy de Maupassant

'Narrative of the Ghost of a Hand' by Sheridan Le Fanu

'The Furnished Room' by O. Henry

'The Open Window' by Saki

'My Own True Ghost Story' by Rudyard Kipling

'Called' by P.C. Wren

'When I was Dead' by Vincent O'Sullivan.
Entertaining
A well read production of classic ghost stories. While not in the same class as King or Lovecraft, it provides a nice diversion for the seeker of unlikeliness.
Annoyed by illiterate reviewers
,
Classic Ghost Stories
What kind of people review the classics by asking "what R these?"? Too little read by you to understand exactly how illiterate you are. Stop all your insipid reviewing of all things on itunes. If you have a two year old, try reading to her instead of spending all your time on-line. Could educate you both.
Awesome audio book.
Richard Pasco has done it again. This collection of stories are brought to life by the talents of Mr. Pasco. He is amazing. Get this audio book.