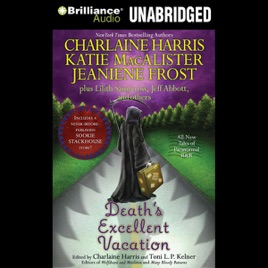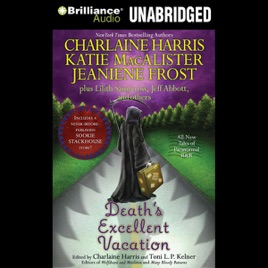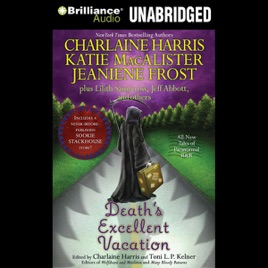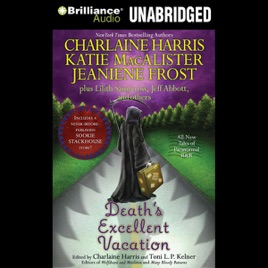 Death's Excellent Vacation (Unabridged)
Publisher Description
It really can be an endless summer — if you're immortal. Though a vampire would be ill-advised to take a cruise to Bermuda, the possibilities for getting away from it all — and maybe snacking on some unsuspecting tourist — are many….

Sookie Stackhouse and her vampire friend Pam take a weekend getaway to Mississippi in number-one New York Times best-selling author Charlaine Harris's "Two Blondes". And when they end up in a shady gentleman's club, to escape in one piece they need to do something that wasn't on their itinerary — something involving a stage, a pole, and very little clothing.

New York Times best-selling author Katie MacAlister's "The Perils of Effrijim" follows a demon whose vacation in Paris is disrupted when he's banished to another plane, thus kicking off a crazy dimension-hopping road trip across Europe.

Protecting an heiress from supernatural hit men isn't Cat and Bones's idea of a relaxing vacation in New York Times best-selling author Jeaniene Frost's "One for the Money", but it could get worse. And it does — when Cat's mother shows up.

Editors Harris and Kelner bring together a stellar collection of tour guides who offer vacations frightening, funny, and touching — for the fanged, the furry, the demonic, and the grotesque.
Terrible and Hideous
I bought this last night because I was devastated to reach the end of the Sookie series and was having Sookie withdrawals. I could not listen to this book. The narrator is absolutely hideous.
Joanna Parker is very creative and "gets into" character. The male narrator of this book reminded me of someone from Charles Dickenson, and the woman narrator sounded nasaly and her tone was irritating.
I am furious that I can't return to this audio book.

I will wait until Charlaine Harris writes the next book.
Bad bad bad...
The tales were well written but the narrators were just awful! Don't waste your money. I have Halfway to the Grave and the narrator was really good but this? just don't!
so bad!!!
bought this book because I was having sookie withdrawals-that was a MISTAKE! Sookie and Pam pole-dancing-I think not! the reader is also different than the other novels-just not well done-at all :(