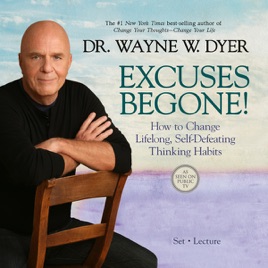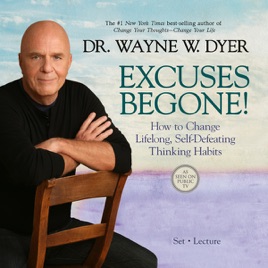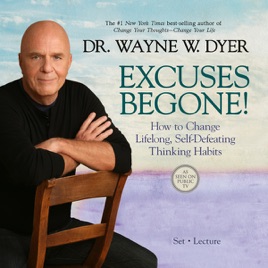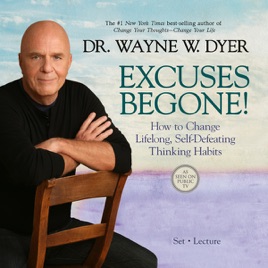 Excuses Begone!: How to Change Lifelong, Self-Defeating Thinking Habits (Unabridged)
Publisher Description
Learn once and for all how to change your thoughts to improve the quality of your life: no more excuses! In this exciting live presentation recorded in Maui, Dr. Wayne W. Dyer reveals a powerful seven-step paradigm that will allow you to drop your excuses and change the lifelong thinking habits that prevent you from living at your highest levels of happiness and success.

Listen as Wayne explains how you can actually change your brain chemistry, align your thoughts to a higher place where excuses do not exist, and use the power of contemplation to attract and fulfill your desires. You are a divine creation with virtually no limitations - except for the ones you believe in.

With the insights presented here, you can finally change those beliefs by recognizing and living from your Source, which has no excuses. Increase your prosperity, experience vibrant health, discover meaning in all you do, and live your destiny - simply by changing the way you think.
NOTE: The Audio Book IS posted but this isn't it! -- the audio book has the wrong description
For everyone who thought this was the book. . . the book IS posted, it just has the wrong description. Just do a search on Excuses Begone and you will see the book with the description (it is listed as the live seminar). Itunes has the descriptions reversed!
Excuses be Gone
Its is very very awesome....but this is NOT the audio-book....it is a LIVE SEMINAR!!!! I thought it was the BOOK.....and read by WAYNE and its not!!!! IT is an AWESOME presentation....discription is not clear.
Thoroughly Enjoyed
This is *not* a reading from the unabridged book. It is, however, very powerful and worth getting. It is about 7 hours worth of one of his weekend seminars broken into one-hour chapters. I bought this after seeing the PBS special, and I believe this audio is completely worth it. He spends more time going into detail on the principles and working with people in the audience in applying it in their lives. If you enjoyed the video, you will definitely get more out of this.