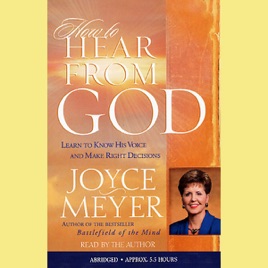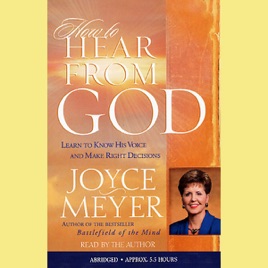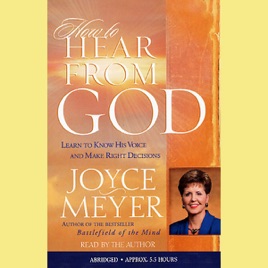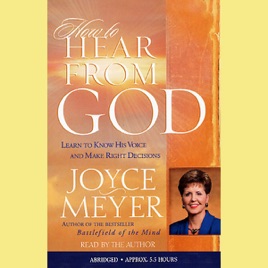 How to Hear From God: Learn to Know His Voice and Make Right Decisions
Publisher Description
God finds ways to reach out to us every day, offering a lifetime partnership filled with guidance on everything from major life issues to small, ordinary problems. The question is, are you listening?

Through her international ministry, Joyce Meyer has helped millions of people develop a stronger, more fulfilling relationship with God. Now, in How to Hear From God, she teaches you how to open your heart to develop a special sensitivity and receptiveness to the many different and often surprising ways God can answer your questions. Using the Scriptures and real-life experiences from her ministry, Joyce helps you hear God speaking to you through your own thoughts and feelings, the words of other people, your dreams, signs in the natural world and more; arm yourself against negative people, gossip, television and sometimes even the religious "rituals" that can distract you from hearing God's words; understand why you must follow His advice to receive the many blessings He wants to give you; know that simply asking God to sanctify your heart and your ears will make it easier to hear what He has to tell you and discover the joy of lasting inner peace.

In How to Hear From God, Joyce Meyer shows you step by step how to wholly place your trust in God. The reward is a life filled with meaning, self-awareness, and the knowledge that God's willingness to speak to you has no limits. In the end, the choice is simple. If you listen, you will hear.
Good book to learn how to hear from God.
I am not Christian, and I don't have any knowledge about Jesus, God,etc. But somehow I end up to listen such a audiobooks regularly...
Including Joel Osteen,too. Anyway I began understanding piece by piece about pray and obey.
It is not easy just listening, but this audio book is explain the syatem of relationship between God and prayer, also deep inside of heart.
You may not understand at first time, but I am sure that you will find some valuable lesson you can challenge in life.
Truly Inspirational
Recently lost my husband and I found listening to Joyce's audio book during my commute to work and then on my way back home lessened the pain of moving on with my day to day without fear and as much sadness in my heart. Thank you Joyce for your strength and beautiful faith ! 🙏