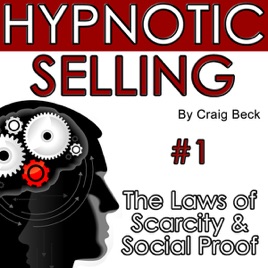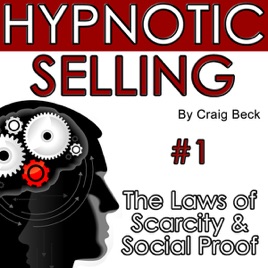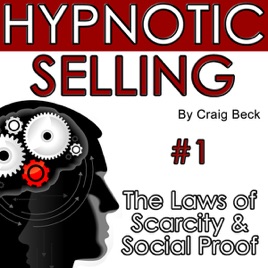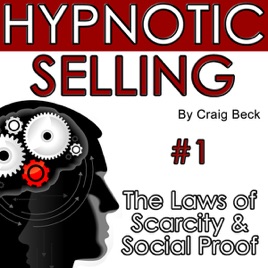 Hypnotic Selling: The Laws of Scarcity and Social Proof (Unabridged)
Publisher Description
Craig Beck is known around the world as The Hypnotic Salesman and in this short audio book he reveals the two most powerful persuasion techniques he ever discovered. Learn the secrets of a formal clinical hypnotist and sales persuasion expert, and then see the massive positive impact this information can have in all areas of your life unfold before you. Whether you are already a sales professional, involved with marketing a brand or are just interested in becoming a master influencer of people then this book is a must for your collection.
Best $2.95 I have spent in a while!
I just launched a new retail site and listening to this audiobook has helped me focus on how to attract potential customers to the site and in turn produce conversions.
Worth the price
This enlightened me to social concepts that affect my everyday sales
Enlightening would be an insulting word
First let me say that I was blown away with this book. It's not every day that you take a chance and then get such a tremendous return in value.

My expectations were that it wasn't expensive and therefore it would not be good. Also, there were no ratings to read, so I assumed nobody cared enough to say anything about the book.

What I learned was how social proof and scarcity is used in marketing, and how in our heads this stuff really is. I was fortunate to be able to sit in a dark room and listen with complete freedom of thought. This allowed me to be somewhat hypnotized by the author as he took me on this terrific exploration of my own mind.

I do not know why there were no ratings, but I do know why the price of this audiobook is so low. Keep reading and I'll tell you.

The book is a perfectly constructed masterpiece. The author's tone and diction is pleasing to hear and the information is very understandable, entertaining, and with great illustrations.

In the end, you're pitched on buying the rest of the book. I'm doing so as soon as I finish this review. I'm sold and I'm even doing as asked at the end and writing this review. I could probably even tell you what part of my ego is forcing me to do this, and how scarcity and social proof are somehow involved…but I'm going to go buy the rest of the book. I swear I'm a real customer, but I am pretty proud of this review.

If you're not already familiar with advanced psychology and the effect it has on marketing, for only $2.95 you will get the best 40 minutes you've ever had.

I am however perplexed as to why Mr. Beck does not charge more for this book. The value is in it, and it's not incredibly short. Given his own observations of scarcity, one would purposefully make his book appear to be more "scarce." Likewise, one would also question how the "expert witness" of social proof, otherwise known as Craig Beck, would allow iTunes to not have any reviews of this fantastic and high quality audiobook.