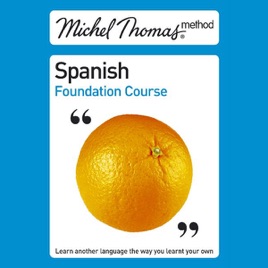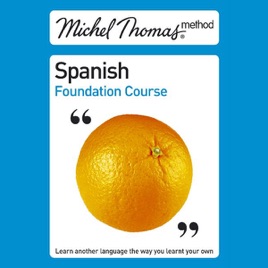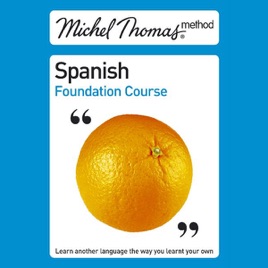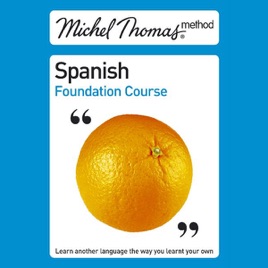 Michel Thomas Method: Spanish Foundation Course (Unabridged)
Publisher Description
Learn another language the way you learnt your own.


You learnt your own language naturally and enjoyably: now you can learn Spanish in the same way.



You'll stick with it because you'll love it.


Use the unique method perfected over 50 years by the celebrated psychologist and linguist Michel Thomas.


This method works with your brain, helping you to build up your Spanish in manageable, enjoyable steps by thinking out the answers for yourself.


You learn through listening and speaking: without the pressure of writing or memorising.


You pick up the language naturally and unforgettably.

An eight-hour, 100-percent audio method for boosting your confidence in speaking Spanish. In this original, ground-breaking studio recording, join Michel Thomas himself, linguist, psychologist and language teacher to the stars, and two students in a live lesson and within the first hour you will be able to construct simple phrases. You will learn the language with the students, hearing both their successes and their mistakes to keep you motivated and involved throughout the course. By the end, you will have the confidence to understand and speak Spanish. This course includes a 2-hour Review Course absolutely free to help you practise and conslidate everything you learn.

Join the millions of people worldwide who have learnt a new language with the Michel Thomas Method.
Excellent Course
I am currently using this course to learn Spanish. The difference between this version and the others available (ie. what makes it more expensive) is that it actually contains the intro course, the beginner course and a comprehensive review as a set. The intro course is approx. two hours and I have listened to that two hours at least four times. Each time I learn a little more. I am now two hours into the beginner section which is six hours long, and I plan on repeating those two hours a few more time before continuing on as well. So far I can confidently say that I have learned more from this program than I did in two years of High School Spanish. I am really happy with this purchase and plan to pick up another language course from Michel Thomas when I am finished with this one.

I was actually introduced to this by a client who used the French lessons to improve their French skills for their travel business. I am now a fan as well. So... ¿Va a comprar lo y habla Espanol conmigo?
Honest review
Hola Amigos!

I have owned this course for several months and have spent hours listening and practicing. It occurred to that I wasn't making progress in speaking Spanish because this isn't that type of course.

This a great course for quickly learning the basics of Spanish. I really do like how mr Thomas breaks down the language.

However, this is NOT the right course for those who are looking for correct pronunciation.

You will waste a lot of time learning "meanings" but unfortunately you will get frustrated because you aren't learning the correct SOUND to began with.

So, in conversation, when speaking to native speakers, your ears aren't trained to hear the Spanish sound.

We native English speakers have habits in our mouth that are not applicable to Spanish.

If you just need to be able to get directions and order food, this is your course. If you are looking to be fluent and conversational check out The Mimic Method.

I personally think that the mimic method and this course go well together. Just remember that neither Mr Thomas or the two students are pronouncing most of the words correctly.

I still Recommend the course.