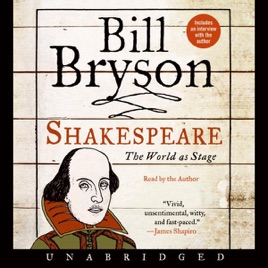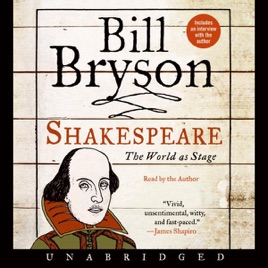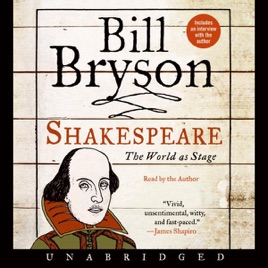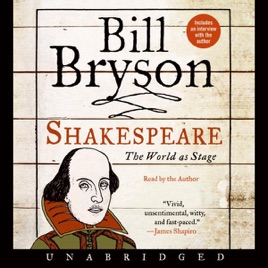 Shakespeare: the World As Stage (Unabridged) [Unabridged Nonfiction]
Publisher Description
William Shakespeare, the most celebrated poet in the English language, left behind nearly a million words of text, but his biography has long been a thicket of wild supposition arranged around scant facts. With a steady hand and his trademark wit, Bill Bryson sorts through this colorful muddle to reveal the man himself.


Bryson documents the efforts of earlier scholars, from academics to eccentrics. Emulating the style of his famous travelogues, Bryson records episodes in his research, including a visit to a bunker-like basement room in Washington, D.C., where the world's largest collection of First Folios is housed.



Bryson celebrates Shakespeare as a writer of unimaginable talent and enormous inventiveness, a coiner of phrases ("vanish into thin air", "foregone conclusion", "one fell swoop") that even today have common currency. His Shakespeare is like no one else's: the beneficiary of Bryson's genial nature, his engaging skepticism, and a gift for storytelling unrivaled in our time.
Dryer than a Popcorn Fart
I have a rule: If Bryson writes it, I'll read it. He's one of the great authors of our time no doubt. His treatment of Shakespeare is a bit of a departure from his usual work in that it is an attempt to record history as it exists for the shadowy character of William Shakespeare (or Shakespe as the book explains). Not his greatest work by a long shot, but someone has to teach us about Shakespeare and who better than our good friend Bill Bryson. Too bad Shakespeare didn't have a sidekick named Katz.
so good
Bryson's newest work is as good as anything else he has written.
Beyond amazing
First I admit I have read every book B Byrson has written. He and P.G Wodehouse are, in my opinion,the greatest english writers since Shaekespeare. The acid test? You can read them over and over and over and over and each time something new and special pops up. This audio book has insipred me to drag my wife to every shakespeare production I can find (not to mention what I grab to watch on youtude). This audio book is facicinating, and so entertainingly presented that, I promise, you will listen to it end to end more times than you imagine.