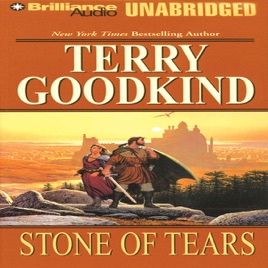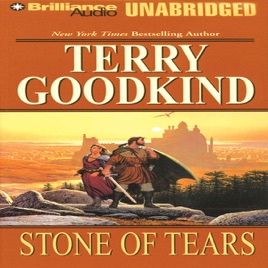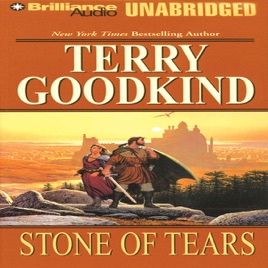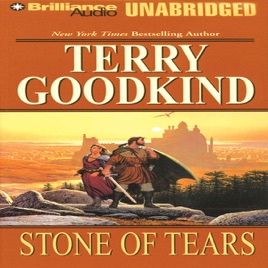 Stone of Tears: Sword of Truth, Book 2 (Unabridged)
Publisher Description
In
Wizard's First Rule, Richard Cypher's world was turned upside down. Once a simple woods guide, Richard was forced to become the Seeker of Truth, to save the world from the vile dominance of Darken Rahl, the most viciously savage and powerful wizard the world had ever seen.

He was joined on this epic quest by his beloved Kahlan, the only survivor among the Confessors, who brought a powerful but benevolent justice to the land before Rahl's evil scourge. Aided by Zedd, the last of the wizards who opposed Rahl, they were able to cast him into the underworld, saving the world from the living hell of life under Rahl.

But the veil to the underworld has been torn, and Rahl, from beyond the veil, begins to summon a sinister power more dreadful than any he has wielded before. Horrifying creatures escape through the torn veil, wreaking havoc on the unsuspecting world above.

If Rahl isn't stopped, he will free the Keeper itself, an evil entity whose power is so vast and foul that once freed, it can never again be contained.
Enjoyable...
I actually enjoyed Mr. Bond's narration. I know that puts me in the small minority. But, I don't think it is NEARLY as bad as it's been portrayed. As far as the book goes, it's really all about taste. Goodkind is very good at...well...being Terry Goodkind. Good overall story, very likeable and well developed characters but rather average writing. I don't mean to be disparaging (I am a fan) but if I have to hear "he pushed back the lump in his throat" OR "Tears weld up in his/her eyes" one more time… tears are going to well up in MY eyes. Also, and I mean this with as much respect as I can muster, If you are of the very liberal political persuasion you may want to look elsewhere for your fantasy fix. Goodkind is heavily influenced by Ayn Rand. And doesn't even remotely try to hide it. Especially in later works in the series.
ugg
this is an amazing book. but the naration is done by a robot. its awful and insulting
Extremely Dissapointing
,
Great Book, Horrible Narration
I love this book, I've read it many times, but the narration was so bad I almost couldnt listen to it. I found myself fast forwarding through the sections with Zedd, who's one of my favorite characters. His narration of Zedd was painfully bad. Has Jim Bond ever interacted with people in real life? Why does he think that people in a book would sound so painfully different from real people? No one on the planet talks like his characters, it's just horrible.