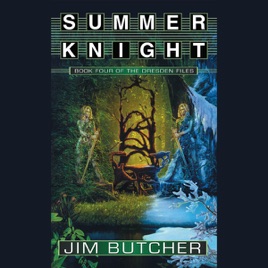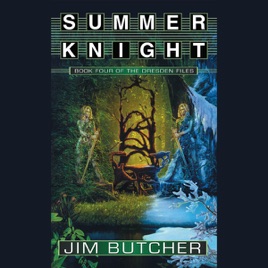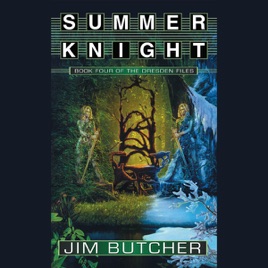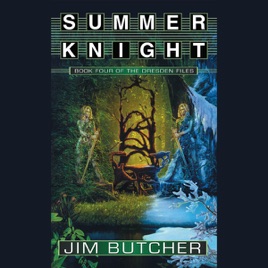 Summer Knight: The Dresden Files, Book 4 (Unabridged)
Publisher Description
Harry Blackstone Copperfield Dresden is a very powerful wizard and a dedicated private eye. He is also a wise cracking trouble magnet. Fueled by a tempest of guilt, sleep deprivation, malnutrition, bad temper and frankly awful personal grooming. Harry is hurtling toward oblivion. According to Harry that is nobody's business but his own.

The Winter Queen of Faerie manipulates him into accepting a case to solve a murder and stop a war between the courts of Summer and Winter that could have literally earth shattering consequences. His own soul is up for grabs. Dresden must dig deep to discover that at time a willingness to accept a little help from your friends, be they a cub pack of werewolves, old loves in sheep's clothing, or a battalion of pizza loving dewdrop fairies, is a very good thing.
ZOMGFFBBQ!!!!!
Ok, so heres the skinny. Jim butcher has somehow managed, through sheer luck coupled with enormous talent and a good sense of humor, to create quite possibly the best urban fantasy series to appear on the market in the new millenium. I would continue, but really, what more is there to say?
Perfect Blend
This book is the first of the series that starts to demonstrate how Butcher is taking the wonderful characters he has created and is developing them into a fine, rich, layered tapestry. The previous three books, while interesting as a foundation in themselves, simply point the way to a much more intriguing and satisfying payoff that begins to be evident in this novel. Much like a fine wine, this is the book where the readers can really start to enjoy the fruits of Butcher's labor in a completely different sense than his earlier installments. The characters have always been deep and textured, but Butcher starts to use and manipulate their backstory rather than simply laying it out for the reader. This results in a tale that is not only a good yarn, but is savory and gratifying. The characters grow. Butcher is hitting his stride.

James Marsters, as the narrator, is a true guide that can somehow lift the narrative off the page and give it vibrant, imaginative life. He doesn't just read the story, he uses his dramatic interpretive skills to infuse each character with personality, authenticity, and realism. Making something this fantastical come across as honest is a real challenge, but his tone of voice, inflection, pace, and endearing storytelling skills make this book seem more than a good novel--he makes it a performance. One wants to listen to the other novels rather than read them just to hear his vocal interpretations. Marsters is a true artist--a perfect choice to breath life into Butcher's creative canvas.

I can't say enough about this book. I'll gladly spend my money on the rest of the series after this installment.

Favorite aspect: Butcher finally brings others into Dresden's fold. While a solo hero can be thrilling to read about, it is much more satisfying to parlay that individualism with the characters of a team. Ensemble stories are much more interesting than solo adventures, and it is deeply refreshing to feel Dresden finally open up and accept help from others. It is satisfying as a reader to feel vicariously closer to Dresden's story because we can see how others react to working with him. From a storytelling perspective, the reader feels more involved as we empathize with a more developed cast of characters that struggle alongside Dresden. There are more opportunities to connect with the story, lifting the burden from one character to draw the reader in. Billy and Murphy become part of the "Scooby Gang", and as readers we invest more into them as we witness them coming closer together.

Good book. Can't wait to read more. Well done, Butcher and Marsters!
Wow!
This book is the best so far. I just finished listening to it today. It takes the interesting and entertaining series of the Dresden files and makes it Epic! James Marsters is fantastic and I am so glad I listened to these on audio rather than read them. Thats a very very rare thing for me as I am a avid book reader. This series may turn me into an avid book listener!