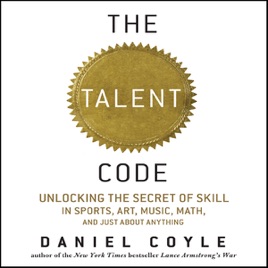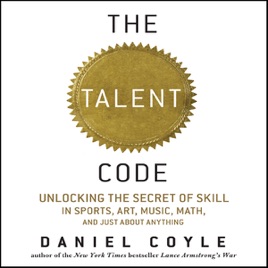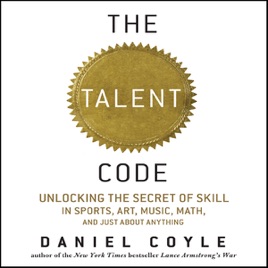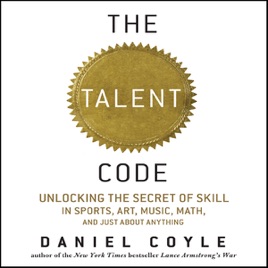 The Talent Code: Unlocking the Secret of Skill in Sports, Art, Music, Math, and Just About Anything (Unabridged)
Publisher Description
A
New York Times best-selling author explores cutting-edge brain science to learn where talent comes from, how it grows, and how we can make ourselves smarter.

How does a penniless Russian tennis club with one indoor court create more top 20 women players than the entire United States? How did a small town in rural Italy produce the dozens of painters and sculptors who ignited the Italian Renaissance? Why are so many great soccer players from Brazil?

Where does talent come from, and how does it grow?

New research has revealed that myelin, once considered an inert form of insulation for brain cells, may be the holy grail of acquiring skill. Journalist Daniel Coyle spent years investigating talent hotbeds, interviewing world-class practitioners (top soccer players, violinists, fighter, pilots, artists, and bank robbers) and neuroscientists. In clear, accessible language, he presents a solid strategy for skill acquisition - in athletics, fine arts, languages, science or math - that can be successfully applied through a person's entire lifespan.
Good book, but ...
If you've read "Brain Rules" by John Medina or "The Brain Book" by Peter Russell you've read books that cover the same ground only more comprehensively. "The Talent Code" begins with an astonishing assertion - a young girl does a month's worth of practice in minutes by using "deep practice." This thesis is never proven nor quantified, however. Much of the rest of the book is anecdotal and lacks in-depth scientific rigor. Finally, there is not enough mention of demyelinating diseases given the books central thesis; that the nerve insulating material myelin is the nexus of all skill acquired through practice. - Scott - A science teacher in San Francisco.
Listen to "The Talent Code" no fewer than three times
Our parents were wrong. Our teachers were wrong. We're not born with talent. Talent is just your brain recognising patterns. And nothing brings out this aspect of talent as well as "The Talent Code". The three stages of practice, ignition and master coaching can take anyone—yes anyone—and make them exceptionally good at a specific ability. That ability we call talent and treat is as something magical. And yet, there's no such thing as magic. Ask any magician. It's all a factor of practice, sometimes mind-numbing practice.

Read "The Talent Code" and listen to it too. The narrator, John Farrell, is exceptional as well. Many narrators are quite boring, but not John. He takes exceptional pride in reading this book, and you'll find this to be a reasonably life-changing book if you follow what's being said. Of special interest is the concept of "slowing down". Most of us are keen on speeding up to learn skills. This book emphasises the factor of "slowing down". It's something well paying close attention to, because it is the difference between reading/listening and true learning.

I was given this audio book for my birthday. It came in a nice fancy box all the way from the UK to New Zealand. And I'm sure it cost way more than $6.95. You should already be hitting the buy now button. This book is an absolute steal at the price.

- Sean D'Souza: Psychotactics.com
Good so far
I'm only about 2 hours into the book but so far it's been fairly compelling, revealing some non-obvious factors behind success and skill building. Looking forward to the rest of the book.