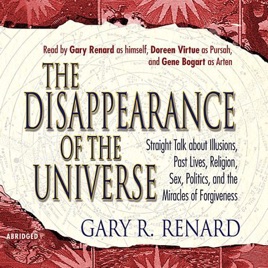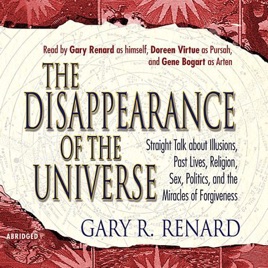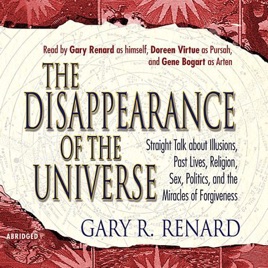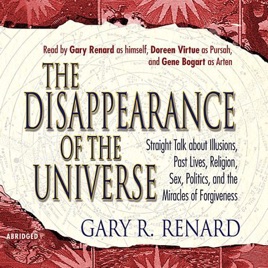 The Disappearance of the Universe (Abridged)
Publisher Description
What would you do if you were sitting quietly in your living room when a mysterious couple suddenly appeared from out of nowhere, and then told you they were "ascended masters" who had come to reveal some shocking secrects of existence and teach you the miraculous power of advanced forgiveness? Would you call the cops? Call a psychiatrist? Call out for pizza?

When two such teachers appeared before Gary Renard in 1992, he chose to listen to them. (And ask a lot of questions.) The result is this startling audiobook: An extraordinary record of 17 mind-bending conversations that took place over nearly a decade, reorienting the author's life, and giving the world an uncompromising introduction to a spiritual teaching destined to change human history.
The Disappearance of the Universe
If you have read the book this audiobook is a fine suppliment to the written word. I do wish it contained the complete content of the book, however it does hit the main areas to make the story unfold. It is not as convincing in its delivery as I would have hoped for, sometimes coming across as if it is being read outloud, however that is a small issue concidering its story. This is a remarkable story in its own right and is worthy of far more thought than just entertainment value. There is much to be learned here. If on the other hand you are seeking entertainment it does that too. I recommend it. Who knows, this may be the next DaVinci code. I can easily imagine this story as a movie.
This Book Will Change Your Life!
Gary Renard, guided by Ascended Masters- Arten and Pursah, have given us the way to undo the seaming universe we believe we're trudging through. True Forgiveness as mapped-out by Jesus in A Course in Miracles is the way it will be done! Disappearance of the Universe will open your "Real" eyes to the truth behind all that you believe about yourself and the world. If you're reading this review then indeed it is YOUR time to know the truth! Praise for Gary, Arten and Pursah!
Great Supplement to A Course in Miracles
As this book explains, depression and anger are possible and sensible responses to learning that this world is an illusion, as is the idea of individual existence. Yet, unlike the above reviews, this book doesn't abandon its readers with these insights. Learning the world is a dream isn't the book's point. Instead, it goes on to explain that the cause of these illusions is a shared idea of separation from God, which is also an illusion because it simply isn't possible to exist without God. The book contains some practical applications for healing this misconception through the practice of forgiveness as taught in A Course in Miracles (ACIM). It's understandable why some readers find this book's references to Jesus disrespectful, but the rationale for the abbreviated reference is explained, and I know several people coming from non-Christian faiths who found this kind of reference to Jesus helpful. Readers should also keep in mind that Gary's humor is intended to help us identify with him instead of placing him above us as an inaccessible guru. Don't we have enough "better-than-thou" New Age teachers who have adapted ACIM to meet the needs of their fame? No other instructor, with the exception of Kenneth Wapnick, has helped me understand and apply the principles of ACIM as much as Gary. Ultimately, I wouldn't let this or any review make your decision. Rather, I would listen for the answer.