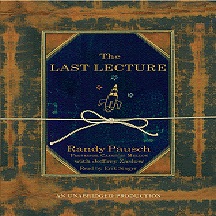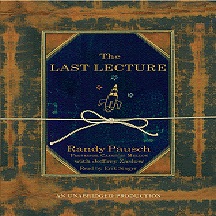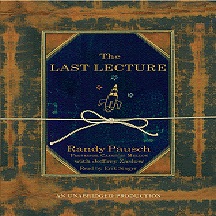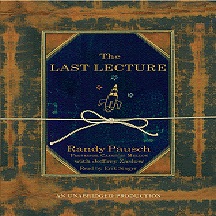 The Last Lecture (Unabridged)
Publisher Description
"We cannot change the cards we are dealt, just how we play the hand." (
Randy Pausch)

A lot of professors give talks entitled "The Last Lecture". Professors are asked to consider their demise and to ruminate on what matters most to them. And while they speak, audiences can't help but mull the same question: What wisdom would we impart to the world if we knew it was our last chance? If we had to vanish tomorrow, what would we want as our legacy?

When Randy Pausch, a computer science professor at Carnegie Mellon, was asked to give such a lecture, he didn't have to imagine it as his last, since he had recently been diagnosed with terminal cancer. But the lecture he gave - "Really Achieving Your Childhood Dreams" - wasn't about dying. It was about the importance of overcoming obstacles, of enabling the dreams of others, of seizing every moment (because "time is all you have...and you may find one day that you have less than you think"). It was a summation of everything Randy had come to believe. It was about living.

In this book, Randy Pausch has combined the humor, inspiration and intelligence that made his lecture such a phenomenon and given it an indelible form. It is a book that will be shared for generations to come.

This recording includes an interview with the author.
This is the book, not the lecture.
Please ignore the review made by "the one and only warren cain," who obviously did not bother to read or listen to the book. This is Dr. Pausch's book, not lecture. His lecture is free to view online, however this book was written to cover many other topics that he did not address in his "Last Lecture."
WOW !!!
04/09/08 I just finishes watching the Diane Sawyer special with Professor Randy Pausch and I was moved. I was moved to tears by his dealt hand and the pending tragic loss that his wife and young children will face, I was moved to take action and ownership of my life like he has shown on the TV special and the YOU TUBE lecture that I had to see after the the TV special. I confess that I am an audiobook fan first but was also moved to purchase the book as a manual to push me along when I have Eeyore moments. I am a Tigger (at heart) and will live my life accordingly for me, my son, my wife, my family and with those whom I come in contact with. These things I know I can do and at times do, but I let the walls get in the way and I give up my power to get over or around them sometimes. Professor Pausch reminds us that these are things worth living for. You will not go wrong with this purchase and I would recommend that you check out the YOU TUBE lecture. AWESOME Stuff. My prayers are with you and your family Professor Pausch. Thank you!!
An Inspirational Book
This was a very insparational book and it has really taught me how to live my life. God bless you Randy Pausch.