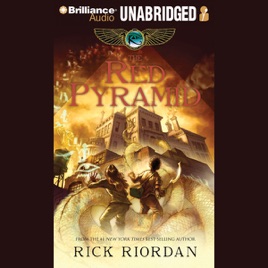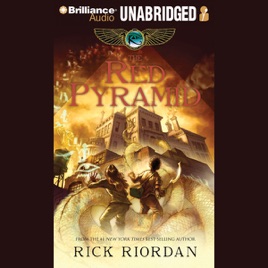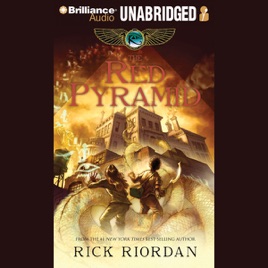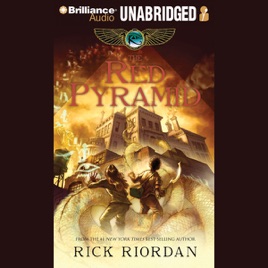 The Red Pyramid: The Kane Chronicles, Book 1 (Unabridged)
Publisher Description
Since his mother's death six years ago, Carter Kane has been living out of a suitcase, traveling the globe with his father, the brilliant Egyptologist Dr. Julius Kane. But while Carter's been homeschooled, his younger sister, Sadie, has been living with their grandparents in London. Sadie has just what Carter wants — school friends and a chance at a "normal" life. But Carter has just what Sadie longs for — time with their father. After six years of living apart, the siblings have almost nothing in common. Until now.

On Christmas Eve, Sadie and Carter are reunited when their father brings them to the British Museum, with a promise that he's going to "make things right." But all does not go according to plan: Carter and Sadie watch as Julius summons a mysterious figure, who quickly banishes their father and causes a fiery explosion.

Soon Carter and Sadie discover that the gods of Ancient Egypt are waking, and the worst of them — Set — has a frightening scheme. To save their father, they must embark on a dangerous journey — a quest that brings them ever closer to the truth about their family and its links to the House of Life, a secret order that has existed since the time of the pharaohs.
Amazing..so far!!!
Really funny and a good combination of characters!! good story telling technique too!!!
Anoher hit Series for Rick Riordan
Finished reading the book a few days ago, and am now listening to the the audiobook. I find it helps me catch things I may have missed while reading. I enjoyed the book and now am enjoying the audiobook as well, I really like the fact that Carter and Sadie's roles were read by two different narrators, it makes for a more interesiting listening experience. It would have been fine if the guy reading Carter's role read the whole story but the fact they had a woman reading Sadies's part was a nice suprise.

Fan of Rick Riordan and The Pery Jackson Series, always been fascinated with Greek Mythology, so when I heard he was venturing to Egyptian Mythology I was instantly intrigued. Don't see too many Egyptian Mythology stories out there. The one and only draw back I had with the book was that it sometimes played to close to The Percy Jackson Series. You'll see what I mean. But the story still stands on its own either way and I enjoyed it very much and can't wait for the continuation.

By the way though did anyone catch the nod Rirodan made to The Percy Jackson Series? (Hint: It when Uncle Amos looks over to manhattan s=and says they have problems of their own.) I thought that was kind of neat
GREATNESS AS ALWAYS!!!
Rick Riordan brings us another godly story worthy of 5 stars i loved it was great this #1 author has brought us another hit series!!!!!11