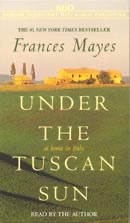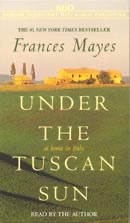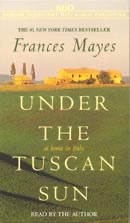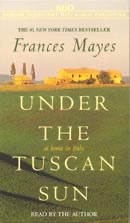 Under the Tuscan Sun (Abridged Nonfiction)
Publisher Description
Frances Mayes - widely published poet, gourmet cook, and travel writer - opens the door to a wondrous new world when she buys and restores an abandoned villa in the spectacular Tuscan countryside. In sensuous and evocative language, she brings the reader along as she discovers the beauty and simplicity of life in Italy. An accomplished cook and food writer, Mayes also creates dozens of delicious seasonal recipes from her traditional kitchen and simple garden, all of which are included in this audio. Doing for Tuscany what M.F.K. Fisher and Peter Mayle did for Provence, Mayes writes about the tastes and pleasures of a foreign country with gusto and passion. A celebration of the extraordinary quality of life in Tuscany,
Under the Tuscan Sun is a feast for all the senses.
under the tuscan sun
So long, boring & tedious. The reader's voice is obnoxious, and her enunciation is laughable
Nice story, wonderful voice
UtTS is not your typical novel - no plot, no "climax"...It is a great listen, the readers voice is relaxing and the book creates such imagery of Italy, you feel as if you were there. This is essentially a woman's story of her love for a house and the culture of Italy, over many years. Saw an ad in a magazine for Frances Mayes new furniture line via Lane (2006)....beautiful and just like you imagined from the book. 5 stars for the audio, 3 stars for the story.
Under The Tuscan Sun
I listen to this book at least once a year, but to the original recording with Barbara Caruso as narrator. I am so disappointed that this recording is read by the author. She may be a great writer but her southern nasal twang does not make for enjoyable listening. When Barbara Caruso reads the recipes she makes you want to cook. I guess I will have to buy the cds instead.

The story is a love story not of falling in love but living in love.