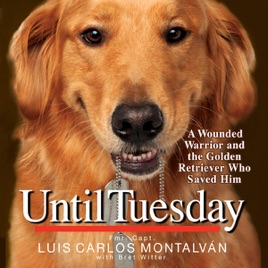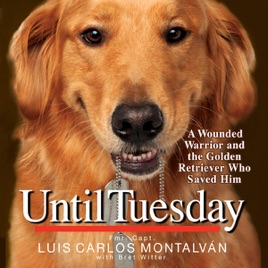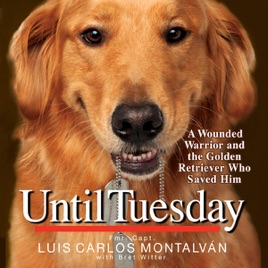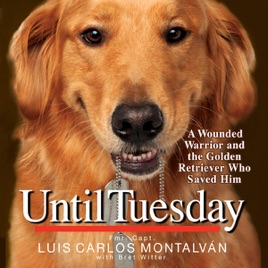 Until Tuesday (Unabridged)
Publisher Description
"We aren't just service dog and master; Tuesday and I are also best friends. Kindred souls. Brothers. Whatever you want to call it. We weren't made for each other, but we turned out to be exactly what the other needed."

A highly decorated captain in the U.S. Army, Luis Montalvan never backed down from a challenge during his two tours of duty in Iraq. After returning home from combat, however, the pressures of his physical wounds, traumatic brain injury, and crippling post-traumatic stress disorder began to take their toll. Haunted by the war and in constant physical pain, he soon found himself unable to climb a simple flight of stairs or face a bus ride to the VA hospital. He drank; he argued; ultimately, he cut himself off from those he loved. Alienated and alone, unable to sleep or bend over without pain, he began to wonder if he would ever recover.

Then Luis met Tuesday, a beautiful and sensitive golden retriever trained to assist the disabled. Tuesday had lived amongst prisoners and at a home for troubled boys, blessing many lives; he could turn on lights, open doors, and sense the onset of anxiety and flashbacks. But because of a unique training situation and sensitive nature, he found it difficult to trust in or connect with a human being until Luis.

Until Tuesday is the story of how two wounded warriors, who had given so much and suffered the consequences, found salvation in each other. It is a story about war and peace, injury and recovery, psychological wounds and spiritual restoration. But more than that, it is a story about the love between a man and dog, and how together they healed each other's souls.
A poignant story
I first picked up this book because a friend had the opportunity to interview Luis for a local news station around the time one of my students unexpectedly lost his beloved guide dog, also a golden, and Tuesday's big loveable face reminded me of her. Although they perform different functions, I've personally witnessed the incredible bond that forms between these dogs and the change they create in the life of their handler. It is powerful, and something most people will never have the chance to witness, let alone experience personally, but Luis invites you to share in his life with Tuesday in this beautiful telling of their story. Their journey is both heart-wrenching and inspiring. You will laugh, you will cry, but most of all you will walk away with a deep appreciation for life with all its trials and tribulations because we cannot bask in the light without walking through the dark. Many blessings to the wounded warriors and the service dogs who are able to break through their walls and reach them; they both deserve our respect.
An absolute MUST read!!
Until Tuesday is the powerfully moving story of an American hero, Luis Carlos Montalván; in this book Luis shares his struggles with the devastating effects of invisible disabilities PTSD and TBI, and battling the immense bureaucracy of the VA to get the help he desperately needed and richly deserved. Additionally, Luis shares the incredible healing power of unconditional love he found in his Service Dog Tuesday. This is a story of war and peace, of injury, healing, restoration, and hope Luis and Tuesday found together through love and devotion to one another. Tuesday brought Luis back into the land of the living, gave him a new lease on life, and helped him heal. Until Tuesday is a must read for anyone associated with persons who have served in our Military, and for everyone to gain an awareness and understanding of visible and invisible disabilities and how we can all help and serve one another.
The Audio version of Until Tuesday is especially poignant as read by Luis himself. Hearing this book directly from Luis is like having him tell me the story directly; hearing his pain and suffering as he relates the effects his visible and invisible injuries had on his body and his life; but also his joy and laughter as he healed and recovered after receiving his service dog Tuesday. I highly recommend each person purchase the hardcover book to read and reread, but also the audio book to hear the story directly from Luis and Tuesday. The audio book brings the book to life and makes Luis and Tuesday's story intensely personal and extremely relevant to millions of people as we struggle to help each other cope with visible and invisible disabilities.
Great Book
Wonderful book. Well worth the money and the time. Great to know there is more help for our Veterans suffering from PTSD.