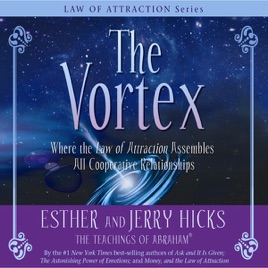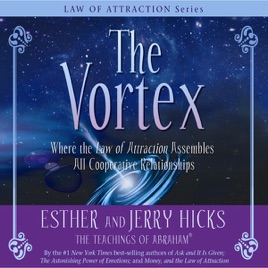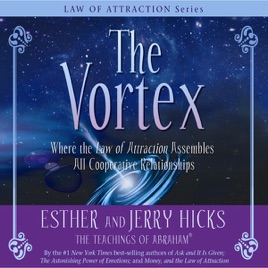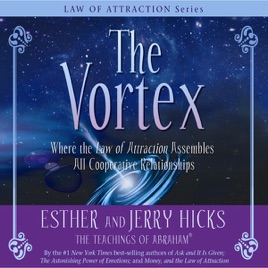 The Vortex: Where the Law of Attraction Assembles All Cooperative Relationships (Unabridged)
Publisher Description
This audiobook uncovers a myriad of false premises that are at the heart of every uncomfortable relationship issue and guides you to a clear understanding of the powerful creative Vortex that has already assembled the relationships that you desire. Abraham will show you how to enter that Vortex, where you will rendezvous with everything and everyone you have been looking for.

Abraham says: "It is our desire to help you to solve the mystery of those seemingly impossible relationships; to sort out the details of joyously sharing your planet with billions of others; to rediscover the beauty of your differences; and, most of all, to reestablish the most important relationship of all: your relationship with the Eternal, Non-Physical Source that is really you.

"It is our desire that you experience an enhanced appreciation of your planet; your body; your family; your friends; your enemies; your government; your systems; your food; your finances; your animals; your work and your play; your purpose; your Source; your Soul; your past, your future, and your present...."
FABULOUS!!
I have all the books that Esther and Jerry have written. I listen to them daily. I figure...It can't hurt to live your life in the way Abraham describes. It's better than being miserable and depressed. This book inspires me to be more positive and it has truly helped change my life in every aspect. If you don't believe in the law of attraction, thats ok. If you don't believe in "channeling", that's ok too. It doesn't matter. This book will truly inspire you to be more positive, loving and balanced individual. It will help with every single relationship in your life. No one wants to be around negativity and drama. I highly recommend this book and all the Abraham books. I hope they help you as much as they've helped me. Good luck.
amazed once again
the newest of the abe books, it is everything i was hoping for. as usual it left me amazed and very satisfied in terms of the questions I had and then some. If you are new to abe, you can definitely read this book even if you havnt read the others and it will launch u right into where u need to be. Abraham are the best teachers man has experienced to this date and their clear teachings really bring a lot of clarity to applying yourself to use the Universal laws. it doesnt get much better than this folks.
Voice issue
This book, if you can get past the annoying vibration of Jerry Hick's voice, is excellent. He may want to consider hiring someone who does professional voice work to read his audiobooks. I find his voice a bit shrill, and pointed. This material is better-absorbed with a softer, gentler delivery! Actually, any personal development-type book is best received when there is more "space", and when the "reader" is more relatable, or on the same plane as the listener. Jerry seems to elevate himself above his audience. 'Not necessary here! But thanks, Jerry!